Turn on the style
Johnny Nelson says Paul McCloskey needs to overcome DeMarcus Corley with panache.
Last Updated: 02/05/12 1:39pm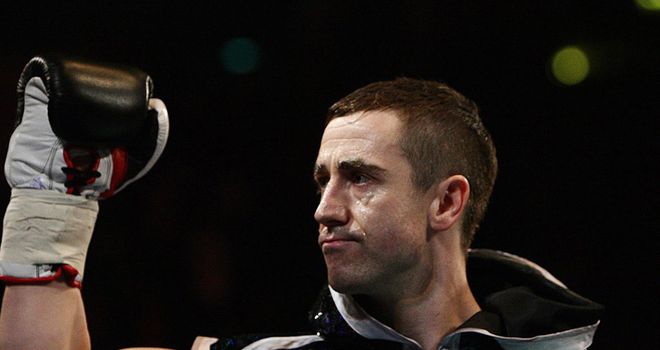 For Paul McCloskey this fight will decide and show us how good he actually is. Is he at the domestic or European level, or can he really compete at the world level?
He should deal with DeMarcus Corley because he's there for the taking. It should be done and it is very possible for him to do it. But it is not just about if he wins, it's how he wins.
He has to win with style, if he is going to dispatch him he has to do it cleanly, do it early. Get rid of him by all means, but get rid of him well.
We know McCloskey finds calm out of chaos. His disjointed style helps him, I get that. And it frustrates opponents, if they don't know what they're doing, they're not used to that or they're not experienced enough, he nails them.
Hopefully he's learned from the loss to Amir Khan, fine-tuned his skills and improved on what he can do.
When he fought Breidis Prescott he went in with someone who can bang. He had to think on his feet, be smart and be clever. He had to learn patience in that fight.
He has to be viewing another world title fight after this one. Certain fighters are happy to just plod along and once they think they have reached their pinnacle it is hard to get motivated, to push on and push on.
But if you still have that dream to be at the top, that hunger, then you are a dangerous fighter. If not then when the going gets tough in the ring then he'll be found wanting.
Experience is something you can't buy, borrow or pretend to have. DeMarcus Corley has all of that over McCloskey. Therefore the pressure and onus is on Paul.
To get experience you have to beat fighters who are more experienced than you and that is what McCloskey has to do to make him a better fighter.
In the fight with Khan, he was eventually controlled and manhandled. He wasn't ready for that. Yes, fighters have got to talk themselves into a position, talk themselves into contention, that is what you have got to do.
But in reality I think another big fight is a bit further down the line. He needs to be patient and just take one step at a time.
I think he'll get the job done on points. It would be better if he beat him cleanly inside the distance but I think it will go to points.
Irish middleweights
There's going to be a lot of pride involved in this weekend's Prizefighter - the Irish middleweights.
I think it will be one of the Prizefighters to remember. These guys are boxing on home turf and there's local rivalry at stake.
You've got your die-hard boxing fans who either love or loathe the format, but for your casual viewer Prizefighter is perfect and easy to understand.
There's a beginning and an end to the story in one night - that's what makes it a great tournament. Even if you don't like it you'll watch it this weekend.
It's going to be all about local pride in Ireland and that's why you are going to see some really fascinating fights there.
Prizefighter draw:
Eamonn O'Kane v Anthony Fitzgerald

Ciaran Healy v Ryan Greene

Darren Cruise v J J McDonagh

Simon O'Donnell v Joe Rea