Rose ready to bloom
Brian Rose can conquer his demons and keep his title intact on Saturday night, says Johnny Nelson.
Last Updated: 30/03/12 3:58pm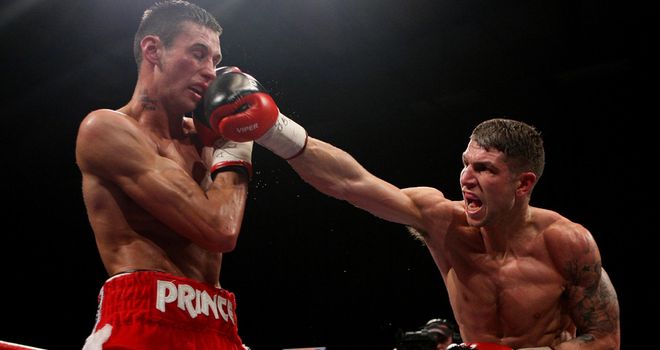 Brian Rose puts his British light-middleweight title on the line in his hometown of Blackpool on Saturday against the man who inflicted the only defeat of his career, Max Maxwell.
Maxwell scored a shuddering knockout against 'The Lion' back in 2010 in the wake of Rose's life-changing bout with Jason Rushton, which left the latter in a drug-induced coma.
But Rose has regrouped with the help of a psychological performance specialist and after relieving Prince Arron of the belt last time out, he is keen to gain revenge on the man from Birmingham - and it will be a good fight.
Maxwell is the only one who has taken Rose out so far so it's back to the hell-hole again. Does he think it's a fluke?
Rose should put him away but a lot of this has nothing to do with the physical aspect - about 80 per cent of it will be mental. He might try and stick to a gameplan but one lucky punch and he'll be back to the dark days when there was doubt.
That's just how it is. You might find someone who's not as tough as you and who you are superior to, but once he's got your number he will beat you nine times out of 10.
Caution
The problem for Maxwell is that he might look at the last fight and go out and be trigger-happy. If he does that, he'll become predictable. That would be to neglect trying to pick the points up, round by round. If he comes out just trying to knock Rose out, he'll lose. He needs to box clever and wait to pull the trigger.
It's very brave of Rose to get back in with someone who knocked him out, but does he have a choice or does he think it was just a blip? It's a big shout from Rose because once you know a man can knock you out once, you know he can knock you out again.
I believe Rose when he says he is back in love with boxing. You hear fighters talk about retirement when they lose once, but sometimes it takes that loss to get that fire back, the desire to win. So I understand where he's coming from.
We'll find out in the first half of the fight whether he is over it and whether he is in love with the game.
Step up
Providing he overcomes Maxwell in this test, I think we're eventually talking about Commonwealth and European level for Rose. He needs to dominate the domestic scene, though, because that's how you learn.
It's great to get the chance to fight for Commonwealth and European titles but it's about dominating your domestic division first, to build your confidence before you step up to European level, where you build your confidence further and step up to world level. That's how you stay champion.
Rose is 27 now. Becoming champion is easier than people realise, staying champion is the hardest thing. You're no longer the hunter, you're the hunted.
People who you don't even know are watching you, watching every little mistake. They'll be preparing for you for six months or a year and you only get six weeks to prepare for them.
With regards to waht happened in the Rose v Rushton match, we saw how such a tragedy affected Chris Eubank in his career. He was careful not to knock opponents out too hard after the Michael Watson bout. Conversely, there is a frightening reality and it confirms to a fighter that he can hurt somebody and punch hard.
I don't think that the Rushton incident has been detrimental to Rose's career because Rose is still boxing.
Johnny's prediction: We know Rose is technically sound at and he's already proved he's over what happened. If he isn't now, he never will be. I expect him to win on points.