Sheffield v steel
Johnny Nelson cannot wait to see the livewire Kell Brook and the tenacious Matthew Hatton lock horns.
Last Updated: 13/01/12 3:47pm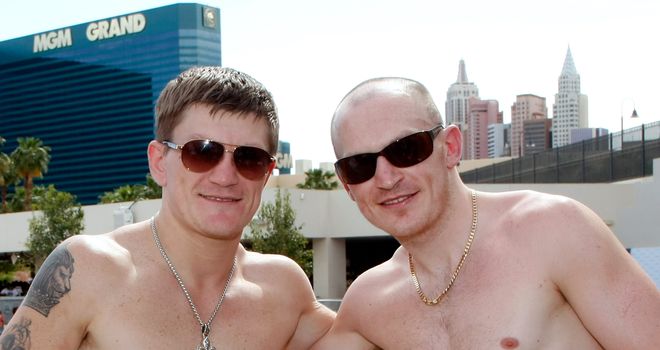 Kell Brook has had all the right fights so far but his intention is to eliminate any challenger to his domestic welterweight rule. He's got the chance to do that against Matthew Hatton on March 17.
It will be a terrific bout with the bright, new talent facing an underrated hero who feels he has not got the credit he deserves. It will be an improver for Kell and a prover for Matthew.
Brook has been making huge waves and it would have been easy for his promoter, Eddie Hearn, to put him with in someone like Shane Mosley, the final stepping stone before a world title fight.
But say he won. He's then in the firing line, at the top tier of boxing, before he has the experience not just to mix it with the best, but to beat them. He needs to step up gradually so that when he reaches the elite level, he deserves to be there.
Kell enjoyed fighting in America on the Andre Ward-Carl Froch undercard, but he'll be delighted to be boxing in front of his home fans at the Sheffield Arena.
He was a young kid watching from the sidelines when Naseem Hamed fought there in 1997, so this is all his dreams come true. Like Nas, he has witnessed the success of those around him and now it's his chance to be the focal point.
Brook and his team may think this Hatton fight is going to be a warm-up for bigger things, an easy hurdle to overcome.
And if he's going to be the star we all think he's going to be, it should pan out that way - but underestimate Matthew Hatton at your peril.
Opportunities
Within boxing circles there is a little jealousy of Hatton. People look at him and think: 'Would you have got the sparring sessions and world-title opportunities that we all want if you weren't Ricky Hatton's brother?' The answer is probably no.
But that often masks the fact that he has a lot of attributes; he's got heart, determination and he's made the most of his ability. His previous fight was a WBC light-middleweight title contest with Saul Alvarez and although he was outclassed, he went the distance.
Matthew will have the edge on Kell when it comes to ring craft, purely because he is more experienced; his match with Brook will be his 50th as a professional. He has garnered plenty of wisdom and knows how to deal with the spoilers, the cheats, the fighters, the punchers and the tough men.
I think we've seen the best of Matthew Hatton and if you are a special fighter you should beat him. If you're not or you have an off-night, he will break your heart and beat you.
Cocky
Both men were very respectful at Thursday's press conference. I'm just not sure it will stay that way! It is a War of the Roses clash after all.
Hatton is a cocky Mancunian - he phoned Brook on Boxing Day to tell him what he would do to him should this fight get the go ahead - while Kell can also dish out the verbals.
The closer we get to the bout, the more tempers will be frayed, and the fighters will hear third-hand information. There will be plenty of 'Kell said this' and Matthew said that'. Things will get nasty and that's when the tickets will start to fly.