Kell raiser
Johnny Nelson says Kell Brook can propel himself into the minds of boxing's elite on Saturday night.
Last Updated: 15/12/11 10:27am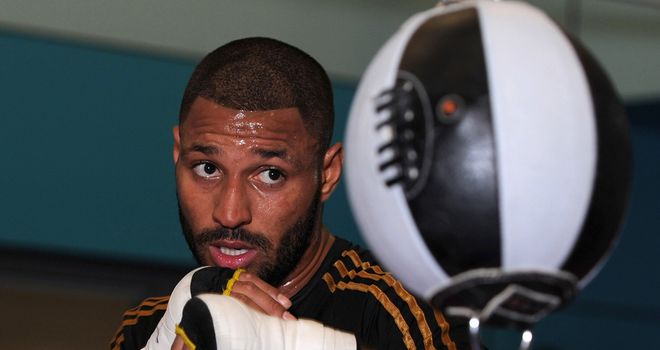 Your first big bout in the States either makes you or breaks you. Some people freeze, some people show off.
I remember my first trip across the pond. I was in awe of it all and wasn't prepared or mature enough to grasp the opportunity; it was like being on a TV set. It was only the next time I got there I was laughing and thinking: 'Now I get it, not I can revel in it'.
Kell Brook, on the other hand, is a mature fighter and I don't think it will take him until the second time around to settle. His intention will be to steal the limelight when he fights Puerto Rico's Luis Galarza on Saturday. He'll be like a little kid in a sweet shop, taking everything in and enjoying every minute of it.
'Special K' knows the position he is in. He knows that being on the Carl Froch-Andre Ward undercard means the eyes of the boxing bigwigs will be on him. He knows this is a chance for him to develop style-wise and fight-wise. He knows he has to make the most of it.
Special
Kell and I are both from Brendan Ingle's gym and I knew from the first time he came in he was something special. There are two things about him that give me the impression he's going to be a superstar: he has a vicious, selfish streak when training and a quirky edge.
They are traits synonymous with Ingle fighters; Naseem Hamed had them, Herol "Bomber" Graham had them and I'd like to think I did, too.
Like Naseem, Kell is cold and calculated. No matter who he is sparring with, the button goes and he never lets up. As long as he stays that disciplined out of the ring, it will all come together inside he ropes.
What I like about Kell's boxing style is that he has taken bits of other people but still remained his own man. There are so many different mixtures inside a gym that it is easy to copy those training around you.
He has some of Nas' aggression and unorthodoxy, my elusiveness and a bit of Ryan Rhodes, too, but he has put that all together and created his own style. I wouldn't say there is a direct comparison with anyone else around and that's what makes him special.
All he needs now is experience. He can't just be fed bodies; every fight has to be a learning experience that improves his wisdom and confidence. All boxers know when they have had a pushover and they take nothing from that. They may be able to kid the public but they are not able to kid themselves.
Kell's promoter, Eddie Hearn, is not an idiot and has selected an opponent who will test his man, not someone who will be easy pickings and give him a false sense of security. Galarza will examine Brook's durability, punch power, determination and heart.
That is what every fight has to be like if he wants to be on the fast-track to the top. If you waste time with walks in the park, you won't glean anything and when you do step up a level, you'll get exposed.
Public support
Another important aspect for Kell is that for however long he fights, he is someone who I think will garner public support; he's a bit of lad, witty and says it how it is. I don't know if he'll ever get the adulation of Ricky Hatton but they have similarities.
People related to Ricky; he spoke their language and they understood where he was coming from. Kell's the same. He's not towing the political line and saying the 'correct' thing; he's saying what he thinks.
And I think his fans will be happy come Saturday evening as he should have too much for Galarza. He is likely to be too fast and too busy. However, he cannot afford to give Galarza too much room; he needs to fight his fight and make his opponent adjust to his style.
All throughout history, boxers have had that one fight that puts them on the road to stardom. This could be that fight for Kell. If he comes through, it opens up the possibility of some cracking matches against the likes of Victor Ortiz - who I think he should face next - Andre Berto, Amir Khan and maybe even Floyd Mayweather and Manny Pacquiao.
I know it's a bit crazy to say, but this bout is probably more important than Froch-Ward. They are already established, while for Kell it is the beginning of what I expect will be a very special journey.
Carl Froch v Andre Ward
The main event on Saturday night at Boardwalk Hall sees super-middleweight kings Froch and Ward square off.
I want Froch to win so much. He's got every attribute going for him and in his last six fights he has boxed the best in the world. You cannot question his mettle on any level, whether that be heart, determination or boxing ability. I need this guy to win for British boxing.
But I think he's coming up against somebody who could steal the fight from him. Even though Froch has consistently said he doesn't respect Ward's power, the American is very fast and I can see him winning on points. I hope I'm wrong...