Lamont will lament
Amir Khan should have too many tools for Lamont Peterson on Saturday, says Johnny Nelson.
Last Updated: 08/12/11 3:18pm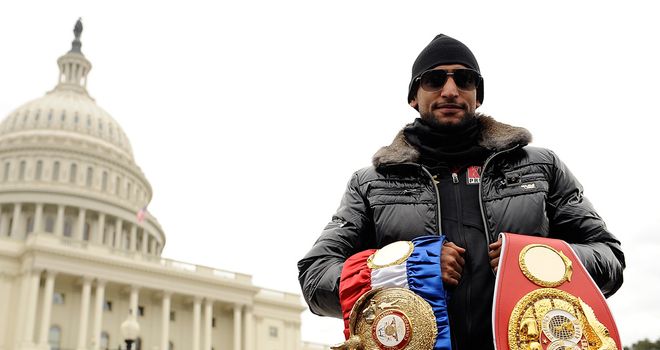 Amir Khan puts his WBA and IBF light-welterweight titles on the line against Lamont Peterson in the American's hometown of Washington DC on Saturday - and I can only see one winner.
I think Khan will approach this fight in the same way he approached Zab Judah - because the only strength that Peterson really possesses is hooks. He's not very effective working at long range.
Peterson is a decent fighter. When you look at him working on the bag or you look at his past fights, he's constantly working on letting the hooks go. Because of that, I believe Khan will do exactly the same as he did to Judah - use the long shots.
In using the long shots, he'll keep him at range and frustrate him. He'll break his heart like he did to Judah, who is an experienced ex-world champion. Then he'll break his will and before you know it, Peterson will be looking for a way out. That's how I see it panning out.
Brave
No disrespect to Peterson but I think Khan is getting to the stage of being one of the best fighters in the world alongside Manny Pacquiao and Floyd Mayweather Jnr. What makes Khan even more exciting is that he can be hit and he can be hurt.
The last time we saw Khan hurt was when he got rocked against Marcos Maidana. Maidana shook him to his boots, but the one thing you've got to give Khan credit for is this - he knew Maidana was a banger and still went in there to have a tear-up with him. You've got to give respect where it's due.
A lot of fighters - if they get hit and hurt like Khan did against Breidis Prescott - they start thinking 'I don't want any of this,' but Khan went in with a big puncher like Maidana and had a tear-up with him... and beat him. That makes him exciting. Even if you don't like him, you want to watch him.
Peterson will be difficult to replicate in the gym for Khan. There aren't really any fighters that will be able to mimic his style because it's so unorthodox. I think Khan will just concentrate on what he has to do anyway - looking at the basics of the jab, the footwork and the persistence of Peterson.
Speed
One thing Khan does know is that Peterson has a big heart and that he'll have a go. Victor Ortiz let him off the hook when he had him down after one or two rounds. The difference is that you can see Ortiz is slightly fragile mentally from watching the Mayweather fight - if Khan has Peterson in the same situation, he won't let him off the hook.
That would show the vast difference between Khan and the likes of Ortiz, Timothy Bradley and Devon Alexander - because the real issue here is how Khan deals with Peterson... not if, but how.
I don't see this fight going past seven rounds. The reason I say that is - first round will be a scouting round, second round Peterson will be thinking 'God this guy is fast,' third round he'll have a go and try what he's going to try, fourth round he'll have another try and think 'Wow - he's getting faster,' from the fifth round onwards he'll be seeing the shots leave and land but not seeing them travel in between. Speed is king!
Peterson's story is a great story, but that will count for nothing. You don't look at him and think 'This guy is unbelievable' - you just think he'll go in there, give it his all and use that street savvy to ensure he won't get pushed around. He's not there to make up the numbers but I don't see him as a top, top level fighter.
Future
Looking further ahead, I don't think Bradley will take the Khan fight regardless of what happens in this bout. I think Khan will jump up in the weights and Bradley will think: 'I may as well hang around and wait until he leaves this division. Why would I risk losing my title and have to join the back of the queue again when he steps up?'
The thing is this - Khan mentioned Pacquiao. There are conflicting stories because he's said he'll never fight Pacquiao but now he's mentioned him again, it may cause a little bit of tension in the gym.
Khan will have looked up at Pacquiao from day one and been in awe of him, but slowly he'll see chinks of armour in Pacquiao's preparation for fights and he'll think: 'I fancy this.' I did it when I used to spar with Errol Graham - it's the pyramid of life and younger fighters take over. Sugar Ray Leonard did it to Marvin Hagler and got him at the right time although they were good friends. They haven't spoken since.
If Pacquiao doesn't box Mayweather next, I can see Mayweather wanting to get on with fighting Khan.