Quigg, Quigg, slow
Johnny Nelson says Scott Quigg needs to go down the traditional route before thinking about a world title.
Last Updated: 26/10/11 10:47am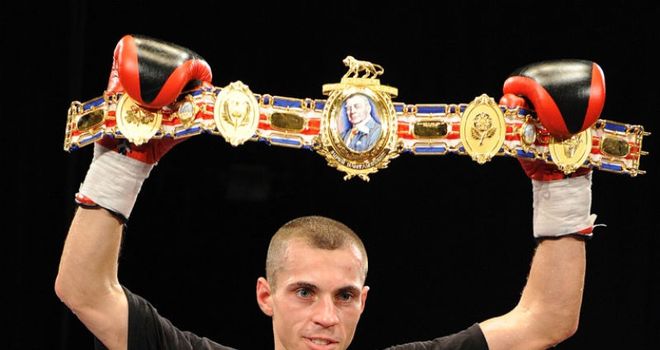 Scott Quigg showed us all on Saturday night that he has the qualities to go a long way.
There was a bit of Father Time - and size - finally catching up with Jason Booth, but you have to applaud the youngster for getting rid of such an experienced fighter so efficiently.
Quigg is so fit, so strong and ignorant enough to stay totally focussed on the job in hand. I don't mean that nastily, it's just he has this attitude where nothing else but fighting and winning the fight matters.
Like many people I headed for Bolton on Saturday thinking Booth would be too cute and was more than capable of befuddling his way to a points win. I thought his skills might be too much for a young lad who has not had much of a real test yet. But what we saw was two fighters heading in different direactions.
Quigg comes from a martial arts background and that disciplined approach clearly helps him stay focussed. Whatever Booth tried, he just shrugged off and stuck with his boxing. And because he has that grounding in kickboxing he is fit and strong. In fact he is very fit and very strong.
He just wants to fight. He knows he can stand there and trade because he has the stamina and strength and in the end it was way too much for Booth.
There is plenty of potential there, but Joe Gallagher needs to do some work with Scott - which I am sure he will.
The trouble with guys that come from a martial arts background is they tend to have a strange guard with elbows very high and very, very wide.
Old-fashioned
At domestic level you can get away with it, but as he moves up, he needs to make sure he tightens up. We have seen plenty of boxers come from a similar background, like Matt Skelton for instance, and blast their way through people left right and centre at domestic level.
But then, when they get onto the world stage - as Quigg will do - they get found out. People pick their punches better and have little trouble breaking down the guard and all of a sudden, that strength and stamina alone is not enough.
Quigg is ranked three by the IBF and WBA but I hope Ricky Hatton does not rush him. He needs to iron out those flaws at British, Commonwealth and European levels and pick up those titles and experience in the good old-fashioned way.
There is no point jumping at a world-title shot, even if it is offered now, because he is not quite ready for that.
What he needs to do is clean up in this country and on the continent so when the big-name Americans and the big chances come along, he has matured, his technique is spot-on and he is ready.
All the talk afterwards was of a fight with Carl Frampton and I think we all know that would be a cracking contest. But is it one for right away? I'm not so sure. I would like to see them both have a few more fights first and providing they keep winning, it's one that should be done when they've both maybe got a title to put on the line.
Right now, I would lean slightly towards Frampton. I think he's a cracking little fighter in the making although he has not really been tested yet. Speaking with Barry McGuigan, his manager, afterwards, I have a feeling they would like him to have a few more fights before putting him in with Quigg.
They would be wise to wait as well, because Quigg's do-or-die attitude and willingness just to walk his man down and fight, might just be too much for an inexperienced fighter like Frampton to handle. Just as it was too much for an experienced fighter like Jason Booth to deal with.
Technical
Booth had a decision to make now. Does he drop back down to his natural weight division, or does he finally call it a day?
It looked on Saturday night like his career had caught up with him. The skills that have served him so well didn't stand a chance against a younger, stronger, fitter guy. Quigg just took away every technical advantage we thought he would have.
You have to applaud Jason's corner and his promoter, Frank Maloney, for the retirement as well. It was clear that their man was never going to win and it soon became a case of how much he would take before it became too much.
It suggests Booth will fight another day, but it will be difficult. We saw on Saturday just how small he is against proper super-bantamweights, never mind one who is young and up for the fight.
The trouble he has now is that if he wants to back down to super-flyweight, it is going to need some serious commitment to keep his body at the weight.
Jason Booth does not strike me as a guy that cuts corners, but he is coming up to 34 and can he afford to be in the gym 24/7 these days and still make a living? I'm not so sure.