Wayne McCullough watches Erik Morales box through the twilight of a phenomenal career
Wayne McCullough watches old foe Erik Morales box well through the twilight of a phenomenal career.
Last Updated: 24/10/12 12:23pm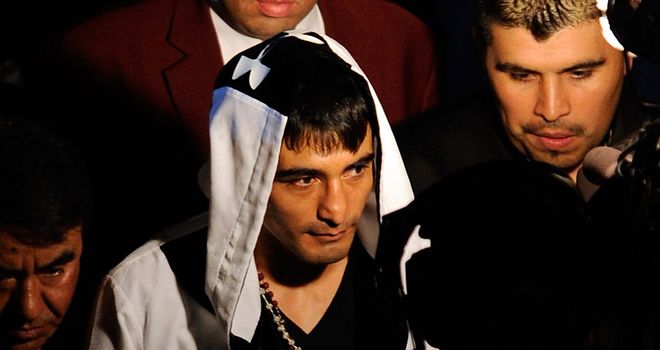 Prior to my fight with Erik Morales in October 1999, he had knocked out nine guys straight, eight of which were in championship fights. Then he fought Marco Antonio Barrera and again went the distance.
Morales moved through the weight classes, winning the WBC featherweight and WBC super featherweight titles to add to his WBC super bantamweight belt, which had been his first world title.
He was still knocking out most of his opponents but understandably wasn't having quite the same percentage success rate as when he fought at super bantamweight.
Then, after losing for a second time to Marco Antonio Barrera in November 2004, he beat Manny Pacquiao in March 2005. Since then he has fought 10 fights, losing four straight after his Pacquiao win, two of which were KO losses to Pacquiao in which 'El Terrible' looked past his best.
After losing a close fight to David Diaz for his fourth weight world title in August 2007, he retired. He deserved retirement and had won world titles at three weight classes.
When he defeated me he was 35-0 but he "finished" his career at 48-6. Less than three years later, he returned to the ring with three wins in 2010 in which he looked half 'shot'.
He fought Marcos Maidana for the interim light welterweight title and fought amazingly in a fight I thought he won - only for Maidana to be handed the victory by majority decision.
Morales was carrying weight around his mid-section during his comeback fights and was fighting 12lbs north of where he was when he originally retired.
In his next fight in September 2011, he got the opportunity to go for his fourth weight world title when he was scheduled to fight Lucas Matthyse, who pulled out of the fight with a viral infection. Morales went on with the fight against last substitute Pablo Cesar Cano.
In the early rounds it looked as though Morales was going to lose but his experience came through when, after taking a lot of shots that the old Morales would have slipped or blocked, he forced a stoppage after 10 with both of Cano's eyes swollen shut. He had won his fourth weight class belt and became the first Mexican to do so.
I thought this was a great time for Morales to call it a day against as he had taken unnecessary punishment against Cano. But that wasn't to be.
Return
Six months later, Morales came back again. He came in overweight, was stripped of his belt and then lost a fight with Danny Garcia, who won easily on points having put Morales down. It was much closer than the judges scored.
Garcia went on to add the WBA belt to his WBC belt with his upset demolition of Amir Khan in July - so both titles were on the line during his rematch with Morales this past weekend in Brooklyn, New York. Was the legend that is Morales going to rise to the occasion or would this be it for him?
Morales has heart and always will but the people who know boxing know that the Morales we are seeing today is not the one we saw in the early 2000s.
Before the fight Morales reportedly tested positive for Clenbuterol - a banned substance - and the fight was in jeopardy. Clenbuterol is a Beta-2 agonist with some structural and pharmacological similarities to epinephrine and salbutamol, but its effects are more potent and longer-lasting as a stimulant and thermogenic drug. It causes an increase in aerobic capacity, central nervous system stimulation, and an increase in blood pressure and oxygen transportation. It increases the rate at which body fat is metabolized while increasing the body's BMR. It can also be used to lose weight.
Morales said he believed his positive test was due to contaminated meats which he ate in Mexico but, in my opinion, it's more likely he needed help losing weight. He only had a minor trace and was hoping his B Sample was clean.
The weigh-in went ahead and Morales made the weight of 10st (or 140lbs). But the fight was still not confirmed by the New York commission as of Friday afternoon. If New York overruled the results, what is the point of random testing? USADA gave their recommendation to New York and it was up to them if the fight went ahead.
Morales had been tested on October 4th and 10th and both came back positive. He was tested once more on the 17th and it came back negative. The fight went ahead.
Goodbye?
Morales looked well past his best during the fight, which didn't make it into the fifth round. Garcia picked his shots at will, hurting Morales at the end of the third just as the bell sounded. As they exchanged punches in the fourth, a left hook to the chin of Morales dropped him hard and his corner quickly jumped in to save him.
I thought this would have to be the end for the legendary Mexican ring warrior, going out on his back, but in his post-fight interview he said he wants to say goodbye with a fight in Tijuana, Mexico.
Garcia now moves on with the WBC light welterweight title and the WBA super world light welterweight title around his waist. Bigger and better things to come from him.