A right old scrap
Donaire's patchy win and a light-welterweight thriller... Wayne McCullough reviews the latest US boxing.
Last Updated: 23/10/12 11:43am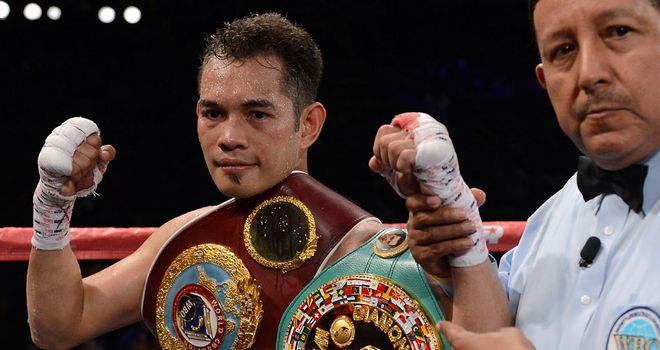 Nonito Donaire was in the top five in the pound-for-pound rankings and held the IBF and WBO super-bantamweight titles.
His opponent this weekend was Toshiaki Nishioka, a southpaw with a lot of punching power, had held the WBC title since January 2009.
Nishioka had fought Veerapol Sahaprom four times for the WBC bantamweight title, losing and drawing twice, so he moved up in weight. He had four losses, three draws and 39 wins (24 by KO) out of 46 fights.
Donaire, meanwhile, had 29 wins, 18 by KO and only one loss on his record. He shot to fame when he upset Vic Darchinyan, knocking him out, to capture his first world title.
Donaire had actually moved down a weight class to flyweight for his fight with Darchinyan and received Upset of the Year for his effort, gaining worldwide attention.
He was the interim super flyweight champion, then the WBC and WBO bantamweight champion. He went on to defeat Wilfredo Vazquez Jr in February of this year to pick up the WBO super-bantamweight belt by split decision, although he should have won comfortably on all three cards.
He added the IBF belt in his last fight in July defeating South African Jerry Mathebula on points.
Hunting
Although Donaire had been winning these last few fights, he did look beatable at times and wasn't really looking like one of the top fighters in the P4P rankings. Maybe he needed a challenge - but Nishioka didn't give him that.
Nishioka had a weird guard, keeping his right hand high and hardly throwing any punches in the opening few rounds. Donaire was trying to break through his guard with hooks and trying to fight, whereas Nishioka wasn't fighting, he was just covering up and moving.
Donaire should have walked through Nishioka and forced him to do something but after five rounds, Donaire was head hunting and throwing very little punches. The fight had been dull up to this point and unless someone did something special it looked like it was going to stay that way.
In the sixth round, Donaire landed a left uppercut to the chin of Nishioka, dropping him. He got up and actually started fighting back and it looked as though the action had finally started. But as soon as it started it stopped again because Donaire did nothing to try to finish the fight.
Nishioka may have stolen the eighth round landing some hard lefts to Donaire's head. He tried to trade again in the ninth but Donaire landed a straight right to his chin dropping him once more. He got up again, not badly hurt, but his corner threw in the towel, giving Donaire the win.
Donaire didn't look good although he got the victory. Maybe another fight with Darchinyan, who has just moved up to this weight, would bring out the best in him. Could his division move be a sign that they are in talks for a rematch? That would be a big draw and very interesting to see.
Contender
In the co-main event, former lightweight champion, Brandon Rios, who lost his belt for failing to make weight, moved up and fought Mike Alvarado who was a natural light welterweight.
The bout was probably in the Fight of the Year category as the fighters mostly stood and traded in close round after round. They both hurt each other but continued to fight. The fifth round could also be a contender for Round of the Year as the action was back and forth.
Alvarado was throwing over 100 punches a round and seemed to have the edge going into the seventh. This fight looked like it was going to be an upset, because Rios had been favourite, until Rios landed a right hand to Alvarado's head which hurt him.
He backed onto the ropes and a combination from Rios forced the referee to step in and stop it. It looked quick and maybe Alvarado should have been given a count but the referee, Pat Russell, made the call he felt was right.
Rios got the KO win in a sensational fight that should have rematch written all over it. Both guys gave their all. Boxing fans and media should applaud them for a great fight which, in my opinion, stole the show and saved the card.