Wayne McCullough asks why Ricky Hatton is returning to the ring
Wayne McCullough is not convinced that Ricky Hatton's comeback is for the right reasons.
Last Updated: 28/09/12 2:37pm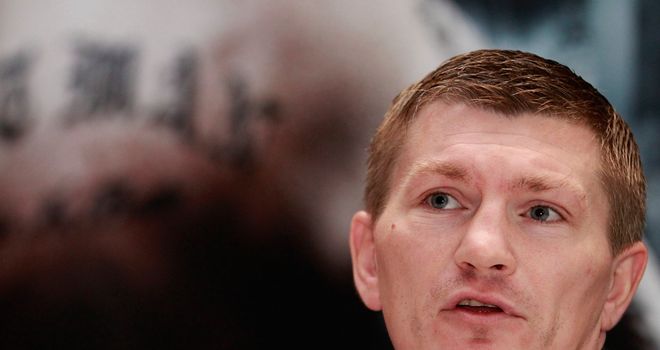 The venue, formerly known as the MEN, was where he won his first world title beating Kostya Tzsyu in what was probably his finest hour. It was a messy fight and Hatton got away with a lot of holding but he forced Tszyu to retire after 11 rounds.
But why is he making a comeback? If he is returning to the ring for the reasons he stated at his press conference then, in my opinion, he is coming back for the wrong reasons.
He says he wants to fight for a world title and not just against journeymen. Paulie Malignaggi, who he stopped in November 2008, would be a safe option because he is non-puncher but he has the WBA world title.
Hatton is a two-weight, four legitimate world belt holder. He won the IBF belt when he defeated Tsyzu, added the WBA light welterweight belt when he beat Carlos Maussa, the WBA welterweight belt when he beat Jose Luis - in a close fight many thought he lost - and then he dropped back down to light welterweight and won back his old IBF belt by defeating Juan Urango.
These were four fights back-to-back from June 2005 until January 2007 but that was the last time he held a legitimate world title.
He went on to be stopped by Floyd Mayweather Jr in the 10th round of their fight and also by Manny Pacquiao in two rounds which is no shame as they are two of the top pound-for-pound fighters in the world. Hatton tried to compete at their level but wasn't successful.
There are several levels in professional boxing ranging from club level - a fighter who is never going to win any titles but who enjoys fighting - domestic level - a fighter who will win regional, British, Commonwealth, European or International titles - world level - a fighter who will win and defend a world title - and elite level - where you fight and compete with the best, win, lose or draw.
Heart and courage
Hatton struggled against Eamonn Magee in the opening round of their fight in 2002 - getting dropped for the first time in his career - and against Juan Lazcano when they fought in 2008 - when he was hurt badly in the 8th and 10th rounds. Heart and courage got him through both fights to win.
It is well documented that Hatton gains weight between fights and while his "Ricky Fatton" alter ego was funny, it is not good for an athlete and it seemed to catch up with him during his last four fights.
Hatton turns 34 on October 6. He was 30 years old in his last fight so he is still young enough and, for maybe the first time in his career, is in shape to train for a fight. But that's how he looks on the outside. There's only so much your body can take.
He said he isn't coming back for the money but would he fight for $50,000 or less? After he started promoting and training fighters he got the itch back but many fighters are not as fortunate as Hatton. They retire and leave the sport. They are not involved anymore and are forgotten about.
There are a lot of horror stories about former champions ending up broke, on drugs or with various other problems but there are also the fighters who are able to adapt to life outside the ropes.
Hatton got caught doing drugs, had alcohol problems and suffered from depression. He went to rehab where the doctors thought his problems were caused by drinking. I hope he has conquered all of his demons.
He said he had lost the hunger to fight but got it back. I was once told that if you lose the hunger you lose it. It never comes back the same way. I suppose everyone is different but maybe he thinks it's there because he misses the high he gets when he fights in front of his fans.
He also said he didn't want people telling his kids how his life turned out when he retired from boxing. But the things that have happened in the past will be there and no matter what he does in the future will not be erased.
All fighters have a void when they retire but what happens when his career finally does come to an end? That void will be there again and only time will tell what happens then.
He wants people to be proud of him again, but they still are. What he has done in the ring will never be taken away. I thank God every day just for living and being alive. I think Hatton needs a little bit of faith in God to guide him in his life.
I love Ricky Hatton's fighting style. He fears no-one and has fought the best. He won several world titles, something many fighters don't so when he fights again I will be watching and supporting him but I truly believe his biggest problems are outside the ropes and boxing gives him an escape.
This is a big comeback for Hatton but I think his biggest fight will be in life once his career is well and truly finished.