Like father like son
Wayne McCullough watched Julio Cesar Chavez Jr almost repeat his father's final round heroics.
Last Updated: 20/09/12 11:53am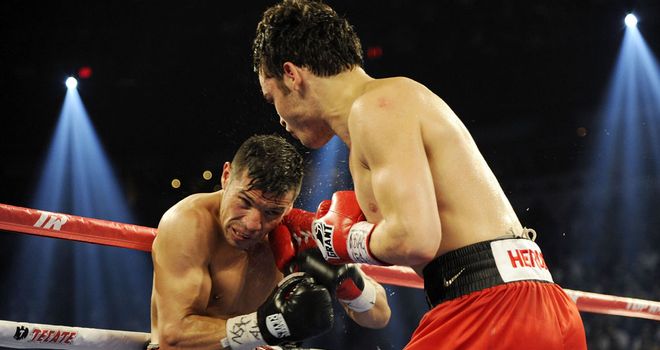 Over 22 years ago Julio Cesar Chavez beat Meldrick Taylor with only two seconds remaining in the fight. He was behind on two cards and came back in the final round to hurt and drop Taylor. Referee Richard Steele stopped the fight when it looked as though Taylor wasn't responding to him. They fought a rematch about four years later and Chavez won more easily, knocking Taylor out in eight rounds.
This past weekend his son, Chavez Jr, almost repeated history when he knocked Sergio Martinez down in the last round of their fight.
Martinez was the favorite going into the fight. He jabbed with his right, moved around, landing combinations to the head and body and then moved away. Chavez Jr was trying to get close to work his opponent's body with his signature left hooks but he was only able to do that on a few occasions.
Martinez did get cut on his left eye from a punch but he did what he said he was going to do to Chavez Jr and that was bust up his face. Chavez Jr's eyes were swollen, cut and his nose was bleeding badly but he showed amazing heart for the first time in his career. In my opinion this was the first time he was really tested.
In the seventh it looked like Chavez Jr was going to be stopped but when asked by his corner if he wanted to continue, he did. He could not keep Martinez in one spot long enough to do any major damage but he did try. Martinez was displaying why he is one of the best, if not the best, pound for pound fighter in the world today.
Shaken
But near the end of the 12th and final round, just when Martinez had practically posted a shutout, winning nearly every round on the cards, history almost repeated itself.
Chavez Jr was pushing forward and, as they exchanged blows, Chavez Jr connected with a left and a right combination to the head of Martinez, shaking him up. A few punches later he went down. With just over a minute left in the round he made it to his feet and recovered very quickly. Chavez Jr forced the action, swinging wildly trying for the finish but it was a dangerous move on his part because Martinez had cleared his head and was now throwing back.
Martinez was pushed down which gave him extra seconds with the clock still ticking. They exchanged again for about 50 seconds and then the final bell sounded. Referee Tony Weeks did a great job in the final round when the least expected thing happened. Over 19,000 fans were going crazy in the sold out Thomas and Mack Center in Las Vegas which was made up of mostly Argentinians and Mexicans.
Martinez had won easily on all three judge's cards and got his old WBC belt from Chavez Jr but the drama in the final round had almost certainly guaranteed them a rematch. You could ask why, as Martinez had won easily, but I think the fact is that Chavez Jr badly hurt Martinez in his late rally. He got close enough and he would be more confident in a rematch.
In the post fight press conference the rematch was talked about by both promoters with them mentioning it being held in the Cowboys Football stadium in Texas where they would get a massive crowd.