A just reward
Wayne McCullough hopes the ever-improving Andre Ward can lure Joe Calzaghe out of retirement.
Last Updated: 13/09/12 10:27am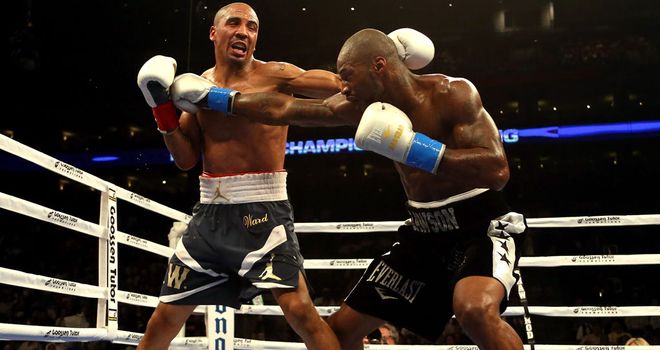 Back in 2009 when Showtime's Super Six Tournament began, Andre Ward was the favourite to win.
He took gold at the 2004 Olympic Games (the most recent gold for America's men) but he had shown signs in his early professional career that his chin wasn't the greatest. He was rocked by Kenny Kost in his second pro fight and again in his seventh, against Darnell Boone, when he hit the deck.
Mikkel Kessler was also a favourite to win the Super Six but Ward faced and defeated him in his opening bout. The fight was stopped due to a cut but Ward had dominated and was well ahead at the time of the stoppage in the 11th round.
Even though he was tested early on, Ward's opponents did have winning records and he went on to win each fight. Many up-and-coming boxers fight guys with lop-sided records, with more losses than wins.
Prime
An interesting development occurred in the super-middleweight division when the WBC light-heavyweight champion, Chad Dawson, made the move down in weight to fight Ward; Dawson's only previous loss was to Jean Pascal on cuts.
He came in off a win over Bernard Hopkins in April but wanted to be the best light-heavyweight and super-middleweight in the world so he made the move down saying he felt as though Ward is the best in the world today. I think it's great to see two young guys fighting in their prime with no-one being able to make age an excuse if they lose.
Dawson is a big guy. At 6' 1" he had to drop down 7lbs in order to make the 168lbs weight limit. He said he did it because it was the first time he had to watch what he ate and he did that extra little bit of a workout to make sure, saying at light heavyweight he could more or less eat what he wanted.
Dawson has a tendency to switch off during some fights and lose rounds. He is a tall southpaw who can box on the outside but fight on the inside. Ward is great on the outside and better on the inside but big things were expected from the power of the bigger man.
Dawson isn't a big puncher but I think he most likely hits harder than Ward who usually depends on his quick left jabs and combinations to win fights. So it was interesting to see how he fared against a world class southpaw like Dawson.
The fight took place in Ward's hometown of Oakland, California, so Dawson was going into the lion's den. Dawson had wanted the fight to take place at a catch weight but decided to come down to super middleweight, which was good to see because if you want to win a belt then you should fight at the weight limit.
Outclass
The fight started off slowly and evenly in the first two rounds but Ward took over and started to counter-punch his counter-punching opponent but it worked as he put Dawson down in the third and fourth rounds, both with left hands to his chin.
Dawson's legs looked weak and his ability to take shots was not there. Was it the weight drop that had weakened him, taking away his punch power? Ward was able to take Dawson's shots with ease.
I believe the speed, skill and accuracy of Ward was the key in this fight. He was punching and then turning, using angles to keep Dawson guessing and it seemed as though he didn't know what to do next.
Ward continued to outclass Dawson in the second half of the fight winning round after round and then in the 10th a flurry of punches followed by a left and a right floored Dawson for the final time in the fight. He got to his feet but referee Steve Smoger stopped the fight. The time of the stoppage was 2:48 of the 10th round.
Ward might have lost one round in this fight but he took Dawson to school and forced a stoppage. He showed he is in the top four of the P4P ratings and is getting better and better with each and every fight.
After the fight his manager talked about wanting to fight Joe Calzaghe, claiming Calzaghe said Ward's style would've been easy for him to beat. Calzaghe is retired but will this lure him out of retirement?
It would be a brilliant fight and one I would love to see.