Into the pro zone?
Wayne McCullough looks at which stars from London 2012 could flourish as professional boxers.
Last Updated: 22/08/12 2:21pm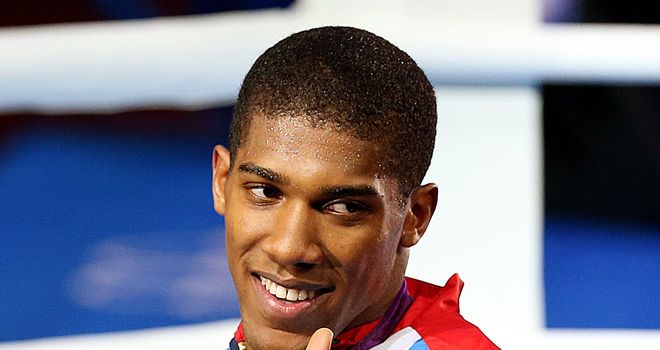 Who will turn pro from the British and Irish teams now that the 2012 London Olympic Games are over?
The gold medallists from both countries: Anthony Joshua (heavyweight), Luke Campbell (bantamweight), Nicola Adams (flyweight) and Katie Taylor (lightweight) could be the best choice for any promoter.
However, these fighters will be offered incentives from their country to stay amateur until the next Olympics and they could be financially set from sponsorships, so why take the risk in the professional ranks, which is vastly different to the amateurs?
Many amateur fighters used to fight like pros and won medals at previous Olympics, but since computer scoring was introduced things have changed.
Now most of the fighters winning medals are the ones who try to land one scoring shot at a time and then move around the ring to get out of harm's way; that style would not do so well in professional boxing.
I saw one or two semi-pro boxers making their way into the medal stages this year, with Ukrainian lightweight, Vasyl Lomachenko, one of the exceptions.
He claimed gold four years ago at the Beijing Olympics and he did the same this time around. He fights like a pro, throws combinations and it works for him.
I fought like a pro in 1992, working the body and head with combinations and got the overall highest score from the entire Barcelona Olympics, so effective combinations can work.
Lomachenko could be a professional world champion and he has talked about joining the paid ranks. As a double gold medallist, as well as a world and European champion, he has done it all in the amateurs.
Bantamweight Joseph Diaz Jr (USA) had a pro style, as did Mexico's Oscar Valdez but neither made it to the medal stages. Valdez, who has a great left hook, lost to John Joe Nevin 19-13 in the quarter-finals but ran the Irishman out of the ring in round three and will make a great pro.
Develop
But the best pro prospect to come out of Britain or Ireland would be Joshua. He is only 22-years-old, but is successful and has a solid chin. I think he should wait until after the world amateurs to join pro, just so he can get a little bit more experience behind him.
It will give him another year to develop his body, but he should not build himself up too much, like a lot of heavyweights do. He can punch but his power is his speed.
If he is developed the right way then he can go all the way in the World Championships, but he needs to be taught to relax, block punches and throw hard body shots.
Campbell, though, should stay amateur unless he is put into full professional training day after day; he will make more money and has the style that suits amateur boxing.
Anthony Ogogo might be well suited tor the pro game but it will take a lot of training to get him ready for a belt, but Fred Evans might be better off staying in the amateurs.
Bantamweight silver medallist Nevin is better suited for the amateurs with his hit and move technique but with a lot of training he may develop into a good pro, while Michael Conlan, who took bronze for Ireland in the flyweight tournament, may stick around for the Rio Games in four years' time and then turn pro.
But light-flyweight Paddy Barnes, now a two time bronze medal winner, can't wait another four years to go pro as he is already 25-years-old. If he stayed for Rio he would have to improve on bronze for it to be worthwhile.
Taylor and Adams, meanwhile, have choices, even though there isn't much competition for them in the pros. Because of her weight, Adams would be fighting mostly against tough Mexicans, but she and Taylor are now real spokeswomen for women's boxing.
Spring
Winning a medal at the Olympic Games doesn't guarantee you will make a good pro, especially now that the computer scoring system has made most fighters change their style. That, in my opinion, has ruined the sport: one punch at a time, very few body shots and no points for controlling the ring.
Winning a medal gave me a spring forward in the pro ranks and I won my WBC bantamweight belt within two-and-a-half years. That was quick but I had trained with pros before the Olympics and it paid off for me.
Making history in the amateurs is one thing but doing it in the pros in another; these fighters will have security in the amateurs, but in the pro ranks if you lose a fight your money drops, if you lose a few times and you're done.
It all comes down to getting the right promoter, training well and getting built up slowly. There is no rush.