Potential for Broner
Broner impresses in the ring but not out, says Wayne
Last Updated: 29/07/12 5:06pm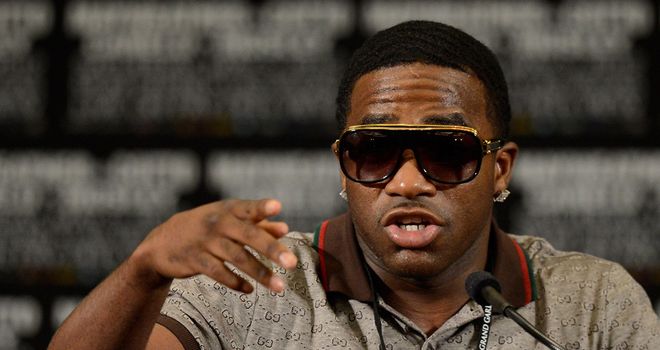 Broner can talk the tal and walk the walk
Vincente Escobedo was touted to be a big star coming out of the 2004 Olympic games. He made his pro debut in 2005 going 9-0 before his first loss, a split decision to Daniel Jimenez in April 2006. He came back strong after that loss with 12 wins before losing again by split decision for the interim WBO lightweight title to Michael Katsidis in September 2009. After one win he lost again to Robert Guerrero on points. He has won four straight since his last loss in November 2010 and was getting a crack at the full version of a world title.
"Broner came to the ring wearing at least half a dozen blingy necklaces, dancing around and looking very cocky. Hopefully he'd be able to back it up. Well he did just that, stopping Escobedo - something no other pro fighter has been able to do."
Wayne McCullough Quotes of the week
Adrien Broner, 23-0 (19 ko), won his belt in November of last year. He was making the second defence of his title against Escobedo. He had fought some good names including champion Daniel Ponce de Leon and top contender Eloy Perez. Escobedo was now the top challenger for his belt.
Broner could be a massive star in the world of boxing with his slick boxing skills, solid chin and punch power in both hands. All this at only 22 years old. I think this may be his last fight at super featherweight and he could go on to become a champion in higher weight divisions.
America needs another big star in boxing after Floyd Mayweather Jnr. Broner could be that guy. He fights a little like Mayweather even being a little boring earlier in his career but has recently become more exciting. His last three opponents at, or close to, world level all got knocked out. If he could get rid of the durable Escobedo then that would show the world that he can be a superstar.
Overweight
Broner took a hit before he even got into the ring this past weekend. At the official weigh-in he came in 3.5 lbs over the 130 lbs weight limit. Very unprofessional. He's young, so he should have informed the boxing commission ahead of time instead of embarrassing himself and getting on the scales overweight. His manager and trainer should also have had some control over the situation. He wasn't just an ounce or two or even a pound over. As the champion this was even more ridiculous.
Escobedo's manager renegotiated that Broner would weigh no more than 140 lbs at a second weigh-in on the day of the fight or the fight wouldn't happen. If he did weigh more, they wanted $10,000 for every pound he was over. Broner was fined $60,000, $30,00 of which went to Escobedo and the other $30,000 going to the commission.
Broner must have been well over the limit the day before if he worked out and still came in overweight. The fine was deserved and the renegotiations were good punishment for Broner as he could have gained too much weight.
This type of fine should be given to every fighter who weighs over the contracted limit. I was in a similar situation myself and nothing happened to the fighter in question. The boxing board did not fine him nor did they force him to weigh a second time and the fight was eventually called off.
On the day of the fight, Broner weighed 143 lbs and the fight was off momentarily. Negotiations started again and Broner's purse of $300,000 began to decrease even more. But finally the fight was saved.
Broner said he was young and had grown out of his weight class. Escobedo had come down from his normal 135 lbs weight class for this fight. Unofficially, Broner weighed 147 lbs come fight time and Escobedo weighed 142 lbs.
Broner came to the ring wearing at least half a dozen blingy necklaces, dancing around and looking very cocky. Hopefully he'd be able to back it up. Well he did just that, stopping Escobedo - something no other pro fighter has been able to do. Broner picked his shots with his left jab, straight punches and hooks working Escobedo's body over with hard right hooks in close.
Escobedo's balance was off and he was leaning more on his backfoot, not in range to punch back when Broner missed and he wasn't putting any kind of pressure on Broner to make him think he was getting hit.
Broner's hands were always high in the old cross guard style which is hard to get through. His chin was up high but nothing in the way of looping hooks were coming his way. He hurt Escobedo in the second round, dominated every round and forced Escobedo's corner to make the right call, standing up to wave the towel to end fight near the end of the 5th round. Escobedo was in trouble and never complained. Credit to Broner though as he went over to Escobedo's corner and had a few words with his opponent after the fight.
Broner won in style and now moves up to the lightweight division to go after another title. During the post-fight TV interview he was asked about his pictures on twitter of Twinkies (an American dessert). He said they were his weakness. Could that be part of the reason he didn't make weight? He never apologized for not making weight. He just said he's grown out of the division. He has amazing talent but I hope he doesn't get over confident and continues to fight like he did this past weekend.