A chinny reckoning
Wayne McCullough analyses Amir Khan's shock light-welterweight title defeat to Danny Garcia.
Last Updated: 17/07/12 11:10am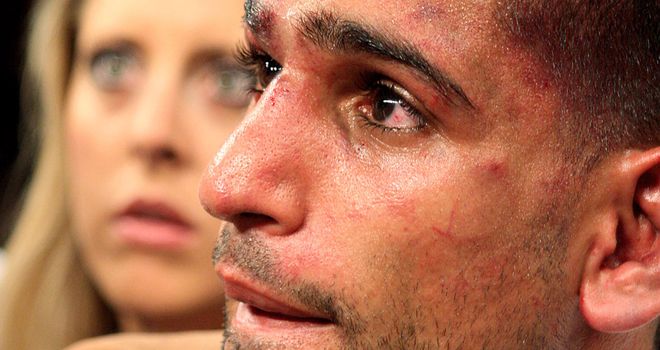 This weekend's fight was a chance at redemption for Amir Khan after his scheduled rematch with Lamont Peterson was scrapped because of the American's failed drug test.
Khan was given his old WBA belt back before this fight and the WBC belt was also on the line as his opponent, Danny Garcia, held that title.
Khan was on Sky Sports recently and when asked about a fight with Kell Brook, said: "I'm more well known here in America than he is in England. I'm a superstar in the sport."
I, however, reckon a fight with Brook would be a massive British draw, while I don't think it's necessary to praise yourself and you should leave that to your fans and supporters.
It's also noticeable that he ignores the younger fighters who call him out. Is it about being popular and not fighting the up-and-comers? Khan is probably more recognised after this past weekend but not for the right reasons.
Underestimated
The first few rounds were Khan's. His hand speed was beating Garcia to the punch. It looked like Garcia was out of his depth.
Then, in the third, as Khan was standing straight up, Garcia landed a left hook to Khan's chin, grazing his neck first. Khan went down and when he got back to his feet he was still hurt and wobbly.
There were about 25 seconds left in the round but the referee took his time making sure Khan was ready to fight on as the clock continued to run. The bell sounded to end the round and Khan had survived.
As the fourth started, Khan got hurt again by a right to the head. He took a standing eight count as his gloves had touched the canvas and the ropes held him up. He showed guts to continue and Garcia looked like he might punch himself out trying to finish Khan.
Another left hook grazed the top of Khan's head, then a right put him down for the third time in the fight. He got up again, badly hurt, and referee Kenny Bayless stopped it.
He had asked Khan if he was OK, the Bolton fighter had said yes but his body said otherwise as he was still shaky. He wanted to fight on but his body didn't.
Solutions
Now he has to look at what he can do in training to try and avoid taking shots on the chin.
Khan seemed to be humble in defeat but what's next for him? The big fights at welterweight are now in the distance. Maybe his chin was not fixed when he came to train in the US.
In my opinion, you either have a good chin or you don't. But you can be taught to block shots and not stand up so straight, like Khan does when he leaves himself open. Big or small, when a shot lands on Khan's chin, it has an effect on him.
Garcia got the biggest win of his young career and surprised everyone. He wasn't known as a puncher but he hit hard enough to knockout Khan, who is known to have a weak chin.