Marketing mastery
Wayne McCullough says the BBBC's refusal to sanction Haye v Chisora has eroded their authority.
Last Updated: 17/07/12 11:18am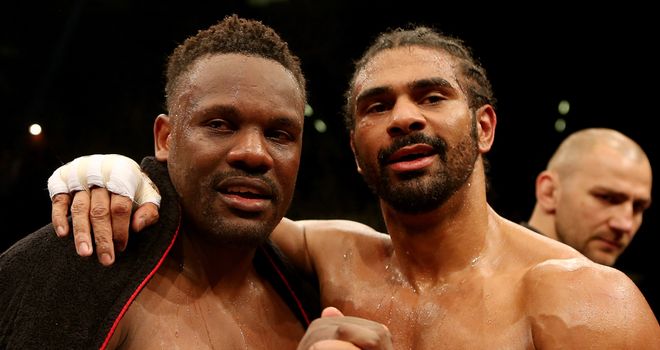 Do David Haye and Dereck Chisora really hate each other or was this just one of the biggest marketing ploys we have ever seen in putting a big fight together? There was no title belt up for grabs but at least 30,000 people bought tickets to see the fight at Upton Park on Saturday night as Haye claimed a fifth-round victory. If it was a ploy it has worked!
It was Haye's first fight since his very disappointing match against Wladimir Klitschko in July 2011 where he more or less survived for 12 rounds instead of giving it a go. Zimbabwean born Chisora, who moved to the UK in 1999 with his family, last fought against the other Klitschko brother, Vitali, in February. He lost on points but put in a better performance than Haye did against a Klitschko for a belt. That's when the build-up for this fight started.
Haye showed up at Chisora's post fight press conference trying to get a fight with Vitali, which he didn't deserve, and he got into a confrontation with Chisora, who then challenged Haye to a fight and taunted him about his pinky-toe excuse when he fought Wladimir. Haye responded, saying Chisora had lost his last three fights. The verbal abuse had been at a distance. Chisora then left the stage and got close to Haye who hit him with a right hand to the chin and a brawl broke out.
Licence
Arrests were made, licenses revoked and neither the BBBC nor the WBC were happy.
But as soon as the fight was on the BBBC should have taken part and not let an outsider, the Luxembourg Boxing Federation, come in to license both fighters while staging the fight in England.
How can another boxing board sanction a fight in the UK when there is already a boxing board in that country? This leaves the door open for unlicensed fighters to get outside boxing boards to license them and fight under the BBBC's nose. I could have done that in 2000 when I was wrongfully denied a license by the BBBC. I did fight in the US but fought for my right to box under the BBBC. I did get my license back and fought again in Britain but would never have thought to bring in another boxing board to put on a fight.
Right to fight
The BBBC should have given Haye and Chisora the right to fight in Britain as neither guy did anything to hurt boxing inside the ring. Yes, what they did was unprofessional but we have seen worse.
The WBC, arguably the most respected world organization, wanted nothing to do with this fight yet they sanctioned Antonio Margarito to fight in Mexico when he was still banned in the USA because of the alleged hand-wrapping incident. Many other big names have taken steroids and got to fight on while being sanctioned by the WBC so I do not understand what the problem is for Haye v Chisora.