No pain, no gain
Wayne McCullough wonders if Victor Ortiz could have fought on with a broken jaw against Josesito Lopez.
Last Updated: 29/06/12 1:52pm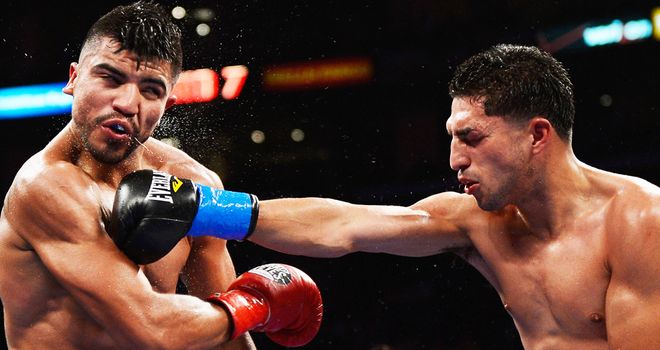 Victor Ortiz v Andre Berto II was scrapped when, during a random drug test, Berto tested positive.
He is the second fighter in a few weeks that have tested positive for a banned substance. Lamont Peterson was scheduled to fight Amir Khan in their rematch for the WBA and IBF Light Welterweight titles and also tested positive in a random test.
Berto tested positive for norandrosterone. He had Victor Conte, founder of Bay Area Laboratory Co-Operative (BALCO) in his camp. Conte suggested that Berto's sample had been contaminated and both deny using banned substances.
Other fighters have tested positive for banned substances - including, James Toney, Shane Mosley and Fernando Vargas - but what happens when they admit it or they are caught? They get a slap on the wrist, a suspension and a fine, then they get back in the right to fight another day.
I think if a fighter cheats he should be banned for life and ineligible to be inducted into the Hall of Fame.
Ortiz still fought this past weekend at the Staples Center in California taking on Josesito Lopez instead. Lopez had fought on the same card as Ortiz when he lost to Floyd Mayweather Jr last September. Lopez also lost that night to unbeaten Jessie Vargas on points. He had four losses from 34 fights but had never been stopped.
The Ortiz v Lopez fight was for the WBC Silver welterweight title. However, if all went according to plan, Ortiz was looking ahead. He had already scheduled his next fight for September, moving up in weight to fight for the WBC title against Saul Alvarez. He had won the WBC welterweight belt off Berto but lost it in his first defence to Mayweather.
Win at all costs?
With a big million dollar fight ahead against Alvarez you would think Ortiz would have done anything to win and at times during the fight, Ortiz and Lopez stood toe-to-toe and had a good old slugfest. Ortiz controlled most of the first four rounds, staying on the outside, popping his right jabs off his opponent's head.
But Lopez was determined to win and he made Ortiz stand and trade. This suited Lopez and he was able to catch Ortiz with hard left hooks to the body and right uppercuts to the chin.
Ortiz hit Lopez with an illegal punch to the back of the head in the fifth but was not penalized. Lopez had success for a few rounds but Ortiz got back in the rhythm by the eighth round. When he stayed on the outside and controlled the fight with jabs, Lopez couldn't get close.
Going into the ninth, I had Ortiz up by two points. A left hook to the chin by Lopez hit Ortiz on the jaw while his mouth was open. He winced when he got hit. In the corner after the round, which he won on my card, he complained about his jaw and must have told his corner that it was broken. He decided not to continue the fight. He had done this once before during his fight with Marcos Maidana in June 2009. This was the second time in a big fight with a much bigger one ahead.
With only three rounds to go it shocked me that he would not continue. He was ahead on points. Was the pain that bad? I broke my jaw during my fight with Daniel Zaragoza in 1997. It happened in the second round. I felt a lot of discomfort but I continued. It was confirmed that Ortiz did, in fact, suffer a broken jaw and subsequently had to have surgery.
It looks like Ortiz will now miss out on the Alvarez fight but Lopez walks away with the biggest win of his career.