Like father, like son
Chavez Jr showed glimpses of his father during his defeat of Andy Lee, says Wayne McCullough.
Last Updated: 19/06/12 9:38am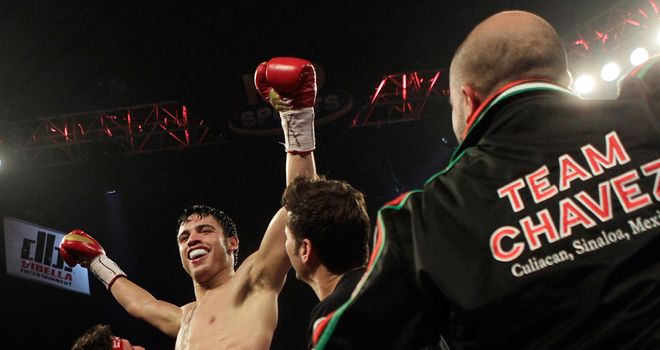 Julio Cesar Chavez Jr did not become a big name in boxing because of the way he fights.
His dad, Julio Cesar Chavez, was a former champion and once considered pound for pound one of the best fighters in the world. Chavez Jr can fight but is nowhere near what his dad was. It's hard for a son to follow in his dad's footsteps, especially if they are big shoes to fill.
Chavez Sr has another son, Omar, who is also a successful pro fighter but he does not get the same recognition as his brother, possibly because he isn't the legend's namesake.
Chavez Jr was unbeaten in 47 fights with only one draw going into this past weekend's fight with Andy Lee. He had struggled in fights and has been handed a decision in one or two but there is no denying he has improved through his young career. He turned pro at 17 and was brought along slowly against the right opponents, some tougher than expected. He started at 130lbs and now holds the WBC middleweight belt. He has grown about 6 more inches to stand 6' tall. He was making the third defence of the belt he won in June of last year against Sebastian Abik.
Lee, a southpaw, was born in England to Irish parents. He represented Ireland in the 2004 Olympic games. His only defeat out of 29 pro fights was to Brian Vera by stoppage but has since avenged that loss. He stands 6' 2" and has 20 ko's to his name but isn't really known as a big puncher. However his trainer, Emanuel Steward, has him fight like he is a banger. He can put punches together and knows how to box smartly since his loss. His best chance in this fight would be to stay on the outside and use a long right jab to catch the slower Chavez Jr coming forward.
Chavez Jr does hit hard with 31 ko's to his credit but I wouldn't call him a puncher either. He struggles to make this weight so that may have been to Lee's advantage if the fight went to the later rounds. Lee would have to be careful of the double left hook Chavez Jr throws to the body, a punch he picked up from his dad.
Home advantage
Although the fight was in America it was still in Chavez Jr's favor as it took place in El Paso, Texas, a largely populated Hispanic community.
Lee got into his rhythm from the start, moving well and landing his long southpaw right jabs to Chavez Jr's chin. It was working in the first two rounds but it was evident that Chavez Jr was getting closer, second after second. You could see the impact Chavez Jr's punches were having on Lee as he struggled to absorb the left hooks to the body.
They both caught each other at the same time in the fourth round with left uppercuts but Chavez Jr landed the harder one. The fight was fought mostly in-close from the third round which suited Chavez Jr. This left Lee struggling to get room to punch.
Chavez Jr was controlling, picking his punches well and winning the rounds. Going into the seventh, it was clear Lee just couldn't keep any distance between him and Chavez Jr. To his credit, Lee took a lot of hard shots and fought back. He left himself open for a hard left hook to the body and when it landed he bent over in pain. A big right to the head almost put him down as referee, Lawrence Cole, stepped in to save him from any more punishment.
In this fight I saw some signs of Chavez Sr's fighting style in Chavez Jr. I had him up by two points going into the seventh round, the same as Harold Letterman on HBO's unofficial scorecard. In my opinion, after the second round, it was all Chavez Jr. But the judges actually had Lee ahead on scores of 58-56 going into his last round fought.
Just last week there was major scoring controversy with the Manny Pacquiao v Timothy Bradley fight which wasn't the worst decision ever. I've seen many more and have been on the receiving end myself.
Chavez Jr should have been ahead on the cards at the time of the stoppage but I don't think anything will be done to change how judges score a fight.