Home grown hero
Wayne McCullough says there is no point in a Froch v Ward rematch - unless it's held in Nottingham!
Last Updated: 30/05/12 11:42am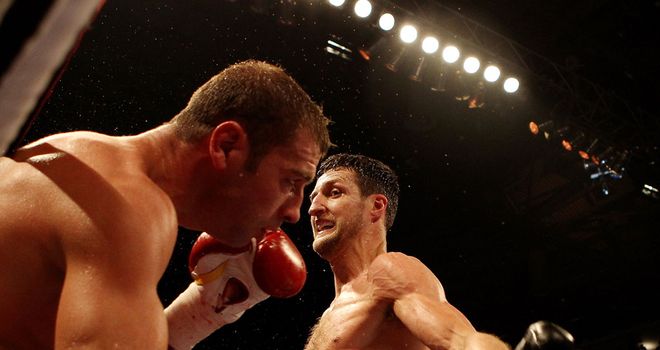 The recent fight between Lucian Bute and Carl Froch was a close one to call, however I believe the fight that should really have happened was Bute against the Super Six Tournament winner Andre Ward.
Ward holds the WBC and WBA belts and Bute has the IBF title. Robert Stieglitz of Germany has the WBO belt and, like Bute, did not participate in the tournament either.
I thought the Super Six was good for boxing but it would have been better had all four belts been on the line with one fighter being called the super middleweight champion of the world at the end.
Ward is scheduled to face Chad Dawson in September. Most people want to see Bute v Ward. But if Froch and Dawson both won then maybe they would fight each other instead and there would still be three major belts up for grabs.
Froch, who lost to Ward in the tournament final, faced Bute this past weekend in his hometown of Nottingham. Bute must have had a lot of confidence to come from Canada and put his IBF crown on the line in his 10th defence.
It was an interesting match-up with Froch, the aggressive come-forward puncher against Bute, the slick southpaw hard punching mover.
Home sweet home
Froch had home advantage and about 10,000 fans cheering him on but Bute, who was the favourite going in, still had about 1,000 of his own fans there to support him.
Bute began the fight as the aggressor but soon got caught by rights and left hooks by Froch, who was waiting for Bute to come in. Then he counter-punched with clean shots. Bute was on shaky legs in the third round and got hurt by some short hooks to the chin.
Although Bute held the belt and was unbeaten, it was Froch who looked a step above. He picked his shots better, allowed Bute to make mistakes and then made him pay for them.
Bute's left eye was cut and swollen by the fifth round as Froch went for the finish. He landed hard rights and lefts on Bute's head that had the champion out on his feet with only the ropes holding him up.
Eddie Hearn, the promoter, and the trainers got into the ring but the fight wasn't officially over yet as the referee, Earl Brown was still counting Bute, who was totally out. The count wasn't really necessary.
Froch did what a lot of people thought he couldn't, which was win, and he did it by knockout defying all the odds against him, and became a three time world champion.
Future fights for Froch
Froch looked great in this fight, maybe against a champion who hadn't really fought anybody like he had. But when he fought Ward, it was Ward who had looked a level above. So what's next?
Mikkel Kessler was sitting ringside at the fight so maybe a return for Froch to seek revenge or a fight with Dawson if he beats Ward. But there is no point in a Froch v Ward rematch because I thought Ward won comfortably.
However if Ward fought Froch in Nottingham it may bring out the best in Froch just like this fight with Bute. Options are now open for Froch and we will find out what's next in the near future.