Case for the defence
Wayne McCullough says Paul McCloskey must work on his rearguard action after losing to DeMarcus Corley.
Last Updated: 09/05/12 12:35pm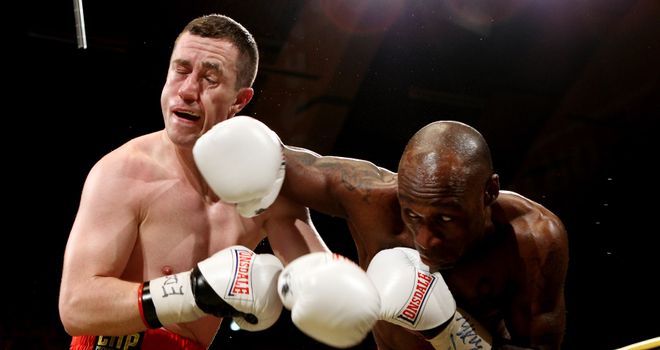 Paul McCloskey's fight against Breidis Prescott in September 2011 was possibly the toughest of his career.
McCloskey was put down in the opening round but went on to win a very close points decision. Many thought Prescott should have been awarded the win and with the fight being in Northern Ireland some called it a hometown decision.
I personally didn't think it was hometown favour and thought McCloskey did enough to win.
That fight was an eliminator for the WBA light-welterweight title, one which McCloskey had fought for against Amir Khan in April 2011. He gave a disappointing performance that night; he was stopped in the sixth and hadn't won any of the rounds up to that point.
Last weekend, McCloskey fought last-minute replacement, DeMarcus Corley, when Julio Diaz fell out. Corley, nicknamed "Chop Chop", had fought everybody in the light welterweight division, including champions like Floyd Mayweather Jnr, Zab Judah, Miguel Cotto and Junior Witter.
He lost to all of them but he had a lot of experience. The 37-year-old had 19 losses out of 58 fights, which was no shame when you look at the list of fighters he fought.
Corley got a surprise win in his last fight in January against Puerto Rican Gabriel Bracero. Although Bracero wasn't a puncher, he came into the fight undefeated at 18-0 with three KOs Corley had 22 KOs on his record so he can bang.
I think Corley expected to lose to McCloskey. He had lost six straight before his most recent win and had shown signs of wear and tear. If he could put in a last-chance performance, he would give McCloskey problems.
Both guys are southpaws and had each been on the canvas during their careers. Corley stepped into the lion's den, traveling to Belfast to fight at the historic King's Hall venue.
Effective
Corley took control early. Each guy had a battle of the right jabs but Corley's were landing more effectively in the first two rounds. McCloskey's nose was bleeding by the second and it continued rapidly through the fight. It looked to me like his nose had been broken by Corley's straight lefts.
In the third, Corley timed a perfect right hook around McCloskey's left that hit him on the face. He wobbled badly as the round came to an end him. Corley took his time in the next round and did not go for the finish, but in the fifth another right hook to the head wobbled McCloskey again. Yet once more he survived.
Over the next four rounds, McCloskey worked himself back into the fight. He didn't change his plan of coming forward, even after being hurt twice, but he gave himself more room to punch and landed his right jabs, hard rights and left hooks to Corley's body.
Corley still looked a class above McCloskey as he picked his punches with precision and in the 10th round he closed the show with a hard right hook followed by a left to McCloskey's head that had him completely stunned and hurt.
His cornerman stood up on the ring apron as the referee was stopping the fight. McCloskey recovered pretty quickly and protested the stoppage but Corley was ready to go for the finish if the referee had allowed it to continue.
McCloskey has to consider his mistakes, what improvements he can make with his defence and how to get more power in his punches. He can come back but he has a lot to learn if he steps up to world level again.
Corley was ahead by a few points going into the 10th but he got the job done within the distance just to make sure. He will probably get another big chance which he deserves after coming to McCloskey's backyard and winning in style.