More fighting talk
Wayne McCullough insists Bernard Hopkins career is almost over, despite what the veteran says.
Last Updated: 01/05/12 9:44am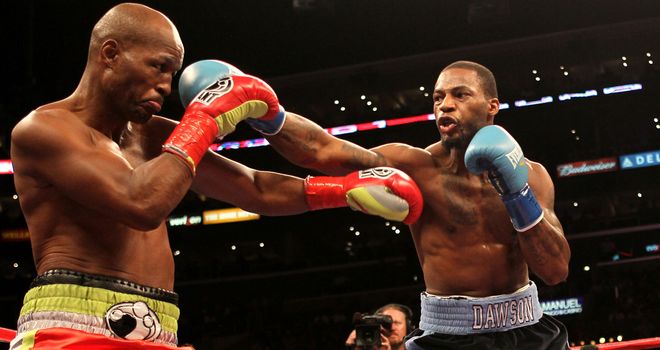 Bernard Hopkins turned 47 on January 15 of this year. He has proven a lot of people wrong by winning world championships in his 40s having already defended his middleweight title a record 20 times.
If you look at his later fights, he lost three times and the others were perfectly timed for him. He lost two fights to Jermain Taylor in 2005 and at 45 he lost to Joe Calzaghe in 2008. There was no shame in these losses as they were both younger and unbeaten. Hopkins did beat Antonio Tarver, Kelly Pavlik, Ronald Winky Wright and a very faded Roy Jones Jr which avenged his 1993 loss.
After Hopkins lost to Calzaghe he started showing signs of ageing. In his two fights with Jean Pascal, Hopkins couldn't take the pressure early. He got a draw in the first, after having been on the canvas twice, and was rocked again in their second meeting although he walked away with a win to become the oldest world champion in history taking out George Foreman's record.
His most recent fight, against a 29-year-old Chad Dawson, was last October. Dawson was awarded the win but it was changed to a no contest. In the second round, Hopkins missed Dawson with a right, they both came in close with Dawson lower and he shoved Hopkins off who fell to the canvas. Hopkins supposedly hurt his left shoulder and was unable to continue.
I thought he looked old in the opening round and his younger opponent was controlling the fight. But Hopkins was examined by a doctor and he had a separation of the left acromioclavicular. Dawson had one blemish on his record when he lost to Pascal by a technical decision after getting cut in the 11th round. It went to the cards and Pascal won.
Ready
Now, about six months on, Dawson and Hopkins were ready to do it again.
Dawson took control right away leaving Hopkins running around the ring. His rights were landing on Dawson's head in the second and he wasn't able to let his punches go as much. It was a closer round. In the third, Dawson started landing combinations. He was in complete control when he did this but when he stopped, Hopkins was able to take over and slow the pace down.
At the start of the fourth, a headbutt caused a cut on Dawson's left eye. The fight continued and Hopkins was starting to land cleaner shots. Dawson was getting anxious. After six rounds, with very little action up to that point, the fight was close and I had Dawson slightly ahead. Double lefts to the head by Dawson in the seventh were landing and Hopkins was starting to look his 47 years.
For the first time in the fight Dawson landed his uppercut as Hopkins came in low. He should have been throwing this punch from the first round because it was clear that Hopkins was always coming in low. Hopkins faded from the sixth through the eighth round but he seemed to get things going again in the ninth probably because Dawson wasn't doing too much in that round.
Going into the final two rounds, Hopkins needed a KO on my card. He came out swinging with rights in the 11th and looked like the younger man and then both fighters fell to the canvas after a clinch.
As the final round started it could well have been the last time we would see the legend Bernard Hopkins competing in a boxing ring and he matched Dawson punch for punch. The judges scored the fight 114-114 and 117-111 twice, a majority decision win for Dawson. I had it 116-112 also for Dawson. He got the belt this time and will hold onto it since the fight didn't end in controversy.
Following the fight Hopkins stated that he will fight on. We will see.