Lundy bounces back
Wayne McCullough watched Hank Lundy recover from a slow start to beat Dannie Williams.
Last Updated: 03/04/12 1:48pm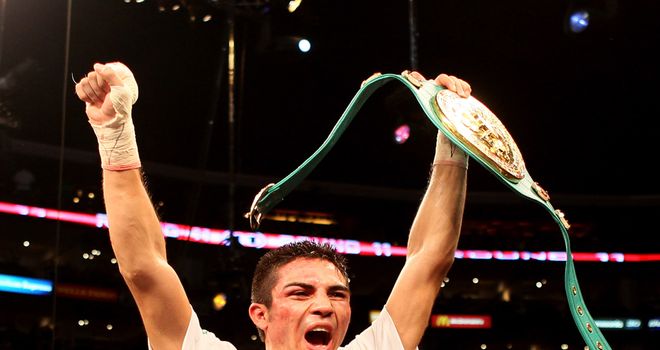 Hank Lundy was making the second defence of his NABF belt last weekend against St, Louis, Missouri native Dannie Williams at Foxwoods Resort in Mashantucket, Connecticut.
Each fighter had 21 wins to their credit with only one blemish on their records. Lundy had three wins since his loss in July 2010 and Williams had nine wins since his loss in September 2009.
Lundy won the NABF belt in April 2011 and in his most recent fight in August of last year he defended it against former lightweight world champion David Diaz, stopping him in the 6th but he had to climb off the canvas to win.
Williams had also been down when he lost his only bout but got up to finish the fight.
Lundy had a higher world ranking so he couldn't make any slip ups against Williams. But things didn't start off as expected. A left hook to the side of his head sent him to one knee. He bounced up quickly but lost the opening round. Williams was trying to stay on the outside and counter punch the quicker Lundy as he came in.
Lundy wasn't reckless after the first and started to pick his punches more carefully. He popped his left jab more often as he switched to the orthodox stance. They both traded big shots while Lundy was on the ropes in the third and he was also able to land short body shots in close.
Williams was taking chances just walking straight in which meant he got hit more easily. They each rocked the other with left hooks to the chin at the same time in the third.
In the next few rounds Williams was trying to make his opponent stand and fight but Lundy was smarter and got in, punched, then got out of harms way. The rounds were close enough but Lundy was the one with better skills and cleaner punches.
Rounds six through eight were mostly Lundy's as he threw his left jabs which were working. Williams piled on the pressure but left himself open to jabs and left hooks.
Going into the final few rounds, Lundy was well up, after probably losing the first round 10-8, so Williams needed a knockout to win. It wasn't that Lundy was winning the rounds easily, Williams was making him fight, but Lundy was the one landing the scoring shots.
Williams seemed to have lost some of his steam going into the ninth round so it was easier for Lundy to pick and land more shots as the fresher of the two.
Lundy cruised into the last round continuing to land scoring shots and was awarded a unanimous decision on scores of 97-92 twice and 98-91. He came through a tough fight with ease and is now ready for his shot at a major world title.