Last bow of a legend
Wayne McCullough explains why he thinks Erik Morales' time in the ring may well now be up.
Last Updated: 26/03/12 10:22am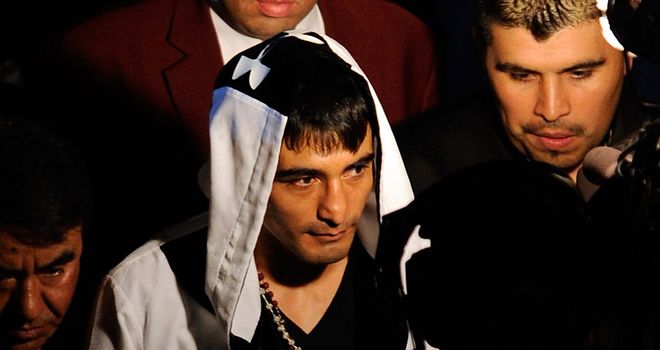 Erik Morales is a boxing legend.
Not only is he the last fighter to defeat Manny Pacquiao, but he is the first Mexican-born fighter to win four world titles in as many weight divisions.
He has nothing left to prove and at 35 years of age is not the same fighter he was when he fought in the super-bantam up to super-featherweight divisions.
In his most recent fight, in September of last year, he fought a last minute replacement, Pablo Cesar Cano, and picked up his fourth division belt.
He didn't look good when he lost to Pacquiao twice and retired after his close loss to David Diaz in 2007 but he returned to the ring in 2010 and had three wins up at or around welterweight. He didn't look good in these fights either but surprised everyone in his fight with Marcos Maidana, a fight I thought he won.
I love Morales and consider him a great friend. I'm definitely a fan of this boxing legend and am honoured to have shared a ring with him - even though he beat me! But I would have liked him to retire after his last, history-making fight. However, he has continued and I will support him no matter what.
Weight
This past weekend he faced American born Puerto Rican Danny Garcia in the first defence of his newly-won WBC light welterweight belt. Garcia was undefeated at 22-0 with 14 ko's. He was coming off a split-decision win over puncher Kendall Holt in October 2011. An inch taller than Morales and 11 years younger, Garcia had fought at this weight since his pro debut in November 2007.
Morales lost his belt on the scales when he weighed in 2lbs over the 140lbs limit - pretty bad for a fighter who has fought mostly in lighter weight divisions throughout his entire career.
So if he won the fight, his belt would become vacant but if he lost Garcia would still get the belt.
Morales was fined $50,000 - $25,000 for each pound he was overweight - which was nothing compared to the money he was making. He accepted the fine rather than taking advantage of the two hours he was given by the commission to try to shed the weight. It was visible that he was carrying extra weight but he made no effort to lose it. If he came to the scale overweight, at what weight did he start his training camp?
The fine would increase Garcia's purse form $175,000 to $225,000. He accepted that the fight should go ahead but said Morales was unprofessional and that his actions hurt boxing and the fans.
Even
Garcia tried to take control pretty early on and he looked like a seasoned pro by staying calm, landing straight left jabs and looping lefts as Morales came forward looking for his own straight left, right. Morales wanted Garcia to stand and trade while landing his signature long left jabs off his head.
After the first few rounds it looked like Morales could take Garcia out if he could just get him to stand with him but when Garcia did stand in front of him he was able to land his own hard rights off his opponent's head and get the best of him giving Garcia a little confidence.
In the sixth, Garcia pushed Morales back and did some damage especially with hard hooks to his body.
The first half of the fight was pretty even.
Morales was getting his old left, right and left hooks going in the next few rounds which were very close and the pace of the fight was slow which suited him. Garcia needed to step up, but didn't. By the late rounds, however, Morales was showing signs of his age.
I thought Garcia would have to step it up in the final few rounds if he wanted to win the fight. Morales had a good 10th round which ended with Garcia's nose bleeding and with just over a minute to go in the 11th round, Morales moved in but got caught by a left hook from Garcia, putting him down. This was a big round for Garcia and he got some crucial much needed points.
Garcia should have come out in the 12th round and tried to close the show but the pace stayed the same. Garcia picked his shots against Morales, who looked done. He should have taken it out of the judges' hands however they scored the fight 117-110, 116-112 and 118-109 all for Garcia. I had it much closer at 114-113. The scores were surprisingly wide and even though he deserved the win, at no point did he look like a seven or eight-point winner. He walked away with the win and picked up the WBC light welterweight title.
I think this might be the last we will see of Morales.