Scrap mettle
Jessie Vargas can be a real star if he stops brawling and starts uses his skills, says Wayne McCullough.
Last Updated: 27/02/12 2:23pm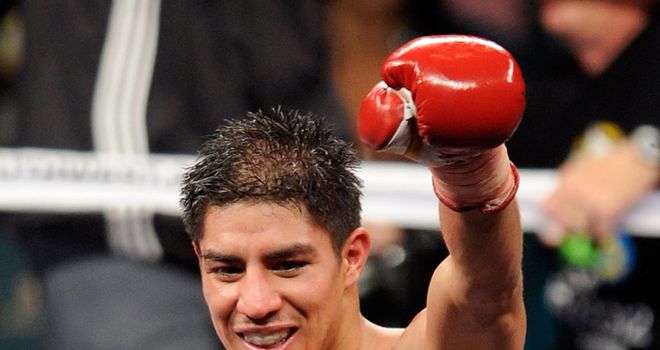 This weekend Jessie Vargas fought for the first time at welterweight after campaigning at light welterweight, or thereabouts, since he began his professional career.
Coming off a win over Josesito Lopez last September, Vargas boasts a record of 17-0 (9 ko) in his young career.
There was talk of him fighting Amir Khan last year but that was as far as it went. The Hard Rock Hotel and Casino in Las Vegas was the host for his fight which was televised on Showtime giving this 22-year-old prospect some great exposure.
His opponent was the more experienced American Lanardo Tyner who had a 25-6-2 (15 ko) record. Tyner had fought most of his fights in this weight class however at 5' 6" he was quite small for this division even though he was well built. He had lost his last two fights and had never been stopped or put down in his six losses which showed his durability.
Test
In the opening round, Vargas gave his height away as he stood in close, but it paid off as he went to work with hard right and left hooks to Tyner's body. Tyner didn't more his head much and at the end of the first round he landed a hard to his opponent's head and they began trading blows.
Vargas got smart in the second and started moving, using a good left jab. He was scoring well. Vargas landed a low blow in the second round and Tyner retaliated with one of his own in the fourth; this shot put Vargas on the canvas. It was a very low and hard shot. He got up and continued to fight as Tyner stayed close swinging shots. Vargas hit him with another low left and the referee, Tony Weeks, warned them both if the low blows continued they would be disqualified.
In the seventh a hard right by Vargas to his opponent's chin seemed to hurt Tyner but he came back and landed some short hooks of his own.
The pace slowed going in to the last three rounds of the 10-round fight.
Vargas landed another low blow in the eighth but the fight went on. He continued to control the bout mostly with his jabs as Tyner fought in close on some occasions. They both fought hard until the final bell but Vargas was awarded the decision on scores of 99-91 on all three cards. I scored it the same way.
This was a good test for the young contender against a durable opponent in this new weight division. I'm a fan of Vargas but he needs to start using his boxing skills more and not get into a brawl with every fighter that wants him to. His defence also needs to be tightened up a little but I think this kid can be a real star in boxing.
Improve
Also this weekend Marcos Maidana fought Devon Alexander in St Louis, Missouri.
This was Maidana's third fight since his loss to current WBA super champion Amir Khan in December 2010. He won the interim WBA light welterweight belt in his fight against Erik Morales in a fight I thought he lost. In his most recent fight in September 2011 he picked up the full WBA light welterweight belt when he defeated Petr Petrov by a quick fourth round KO.
Former light-welterweight champion Alexander was the man facing Maidana centre ring. Alexander had one win since his loss to Timothy Bradley in January 2011 by technical decision in the 10th. He had scraped a split decision against Lucas Matthysse in his last fight in June 2011.
Since they were fighting in a different weight class Maidana's belt was not on the line.
Alexander fought an almost perfect fight as he controlled the distance of the fight using his fast right southpaw jabs on the outside and then got close to Maidana to smother his shots. Round after round, Maidana came out stalking and swinging with wild shots that were hitting the air more than they were hitting Alexander.
The first half of this 10 round fight belonged mostly to Alexander who had the superior boxing skills and he was making Maidana look as though he was a class below. He hurt Maidana in the sixth from a left to the head and then leaned on him as Maidana fell to the canvas. Referee Steve Smoger made the right call when he said it was not a knockdown.
Again in the eighth Alexander hurt Maidana with a straight left to the body and he switched back to the head with combinations forcing Maidana backwards but he showed his toughness and fought back.
Maidana landed some hard shots throughout the fight but nothing that hurt Alexander, who fought with a cut on his right eye for most of the fight. Alexander showed how to fight, and beat, a big puncher like Maidana with his skills and a great game plan. He punched with fast combinations on the outside and in close he tied his opponent up so he couldn't get anything off.
Maidana will move back to light-welterweight after getting beaten easily. He needs to improve his basic skills and not depend on the punching power that has gotten him through hard fights in the past.
I thought Alexander fought smart and executed a great game place. He was awarded the victory on scores of 100-90 twice and 99-91.