Golden shot
Is Demetrius Andrade a world champion in waiting? Our boxing blogger Wayne McCullough thinks so...
Last Updated: 13/02/12 10:23am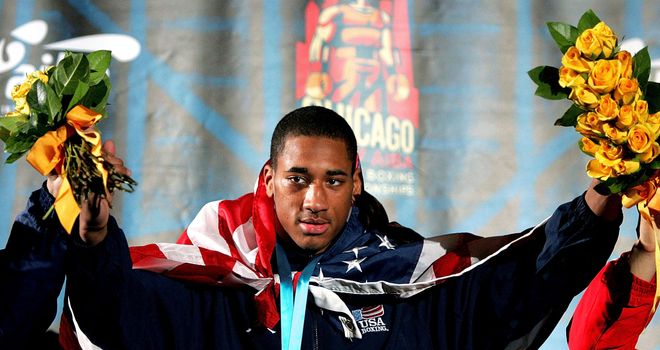 Demetrius Andrade, a world amateur champion in 2007 and an Olympian in 2008, is ranked in the top 20 of all the world organisations.
He was set to face Terrance Cauthen but that fight fell through at the last minute and his new opponent, Angel Hernandez, stepped in with just two days' notice.
With the switch of opponents it is hard for a fighter to change his style as there is no time to prepare so Hernandez had nothing to lose and everything to gain.
After a promoter he had a relationship with questioned whether he should be fighting or not, Hernandez had to go through several stringent medical tests but passed them all.
This fight took place at the Mohegan Sun Hotel and Casino in Connecticut. Andrade, 23, was hoping to extend his 16-0 record pretty quickly.
Hernandez, 36, had been in the ring with some named fighters like Peter Manfredo Jnr, Vanes Martirosyan, Ronald "Winky" Wright and Kasim Ouma. He lost to all of them - even though the Ouma fight ended controversially - but he has the type of style that makes everyone fight.
Control
Andrade, a 6ft 1in southpaw, had the height advantage over his 5ft 8 in opponent, and took control in the opening round, forcing Hernandez to fight; Andrade landed accurate right jabs followed by right hooks and finished off with shots to the body.
Hernandez looked soft around his midsection but he took the shots well and swung back wildly with his punches of his own.
Later in the round, both guys stood and traded punches to the delight of the fans. It was an action-packed first round.
In the second, Andrade pushed Hernandez back, trying to draw him into a trap. Hernandez was mostly swinging wild punches but left himself open and got caught with a left hook to the head that dropped him.
The Mexican was on his knees looking up at referee Steve Smoger while he counted. He got to his feet around four and was asked if he was okay. He said he was and the fight continued with just over a minute and a half left in the round.
Hernandez held Andrade straight away but left himself wide open and Andrade connected with a left hand to the head and a quick body shot. That put Hernandez down almost face first and the referee stepped in and stopped the fight.
It was a good call by the referee and the medical team immediately jumped into the ring keeping Hernandez on the canvas for precautions. A few minutes later they put him on a stool and he looked okay.
Andrade got the win and did the job he was supposed to do against a late replacement fighter who had lost his last three fights. He looked world class and should be a future world champion.
Andrade has said he would like five more fights before calling out the big names in the junior middleweight division which shows a good level of patience.