Cuban charisma
Wayne McCullough was impressed by Guillermo Rigondeaux's victory over Rico Ramos.
Last Updated: 23/01/12 12:07pm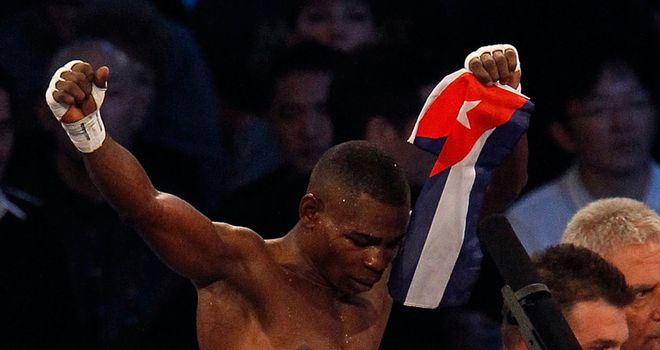 Rico Ramos won the WBA super bantamweight belt in his most recent fight back in July 2011. He defeated then champion Akifumi Shimoda in his first defence by KO in the seventh round from a left hook to the chin, putting the Japanese fighter down and out. Ramos was behind on all three cards at the time of the stoppage.
Ramos had a tough first defence against Cuban Guillermo Rigondeaux - a standout amateur who I first saw in 2001, he had already won multiple tournaments and gold at two Olympic Games. After only six fights he fought and beat Ricardo Cordoba to win the Interim WBA belt. His only defence of the belt was a first round blowout of Willie Casey last March.
He has good skills and a decent punch. Rigondeaux is a good boxer with slick skills but sometimes switches off which he showed in his win over Cordoba. He can be hurt and put down but Ramos would have to stay close and make him fight if he had a chance of winning.
Ramos, 24, was half an inch taller than Rigondeaux, 31, who fights in the southpaw stance. This was the 21st fight for Ramos but only the ninth for Rigondeaux.
The fight took place in Las Vegas at the Palms Resort and both guys made the 122lbs weight limit.
Rigondeaux began the fight working his right jabs and lefts to his opponent's head as Ramos moved around looking a little tense. He took control and just as Ramos stood straight up, Rigondeaux connected with a left hand putting him down. The round was coming to a close so Rigondeaux did not rush to end things as the bell sounded.
Rigondeaux, who is built like a miniature Mike Tyson, stayed controlled in the second and not in any hurry to end the fight. Ramos continued to move around trying to get into the fight. He looked like he did not want to commit to anything with the fear of getting hit with more lefts to the body. It looked like two different classes of fighters as Rigondeaux appeared a class above Ramos.
Going into the fourth Ramos needed to get things going. He was not getting his left foot outside his opponent's right foot which left him in range of left hands from the Cuban. It was more technical stuff from Rigondeaux as he was winning the rounds but the action was non-existent.
The right eye of Ramos was cut by the fifth but he was still in the fight. The crowd were booing and if Rigondeaux wanted to be a big star he would have to step it up. Just after Rigondeaux was warned by referee, Joe Cortez, for holding and hitting in the sixth round, he stepped towards Ramos and threw five straight lefts to his head, dropping him again and he was counted out.
Rigondeaux answered my call and showed that he can be exciting. He went for the finish and got it - picking up the full version of the WBA belt. In my opinion he can be a big star.