He Khan't complain
Wayne McCullough believes Amir Khan was treated fairly in his clash with Lamont Peterson.
Last Updated: 13/12/11 9:29am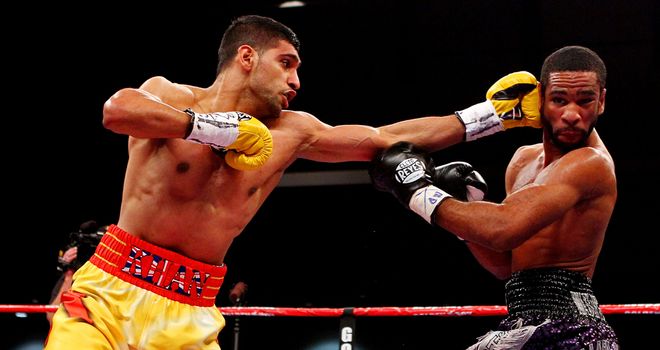 This past weekend, Amir Khan was making the second defence of his WBA Super world light-welterweight title and his sixth overall of the WBA belt he won by defeating Andriy Kotelnyk in July 2009. It was also the first defence of the IBF belt that he took off Zab Judah in July this year.
On Saturday night he faced Lamont Peterson, who had fought for a world title before in December 2009 - losing to Timothy Bradley on points. He had a record of 29-1-1(15 KOs) going into this fight, with the draw being a highly controversial one to Victor Ortiz in December 2010.
The fight took place in Washington D.C, USA, the city where Peterson was born - so was Khan going to be stepping into the Lion's Den or would his British fans make the trip over to support him?
Both Peterson and Khan have been down in previous fights so their chins are on a par. They both made the weight, Khan one pound under the limit of 140 lbs. Unofficially, on fight night, Khan weighed 149 lbs and Peterson 155 lbs on the HBO scale.
Aggression
Khan started as the aggressor and used his quick hand speed to try and catch Peterson. He was succeeding with his fast left jab and near the end of the first round a right to the head dropped Peterson. He wasn't hurt and got up to finish the round.
Khan continued to outwork Peterson in the next round mostly with his fast lefts. But in the third, Peterson started to push Khan around the ring and he went to work on Khan's body and hit him with a hard overhand right. There was a lot of pushing and shoving by Khan and I was surprised he wasn't warned early in the fight.
Peterson deserved the third and fourth rounds on the cards as he was forcing the fight and landing cleaner shots.
Turnaround
The next four were mostly Peterson's with Khan maybe taking one of them. His body shots looked like they were hurting Khan badly as he was moving away like an amateur fighter trying to avoid damage.
Khan's left hook, right hand combinations worked occasionally but he was too busy moving to set his feet and get real power into them.
At the end of the seventh, the referee finally took a point off Khan for holding or shoving Peterson. Rounds nine and 10 were close with Khan landing a right uppercut to his opponent's chin, only for Peterson to reply with one of his own.
Peterson was still landing a lot of body shots. Khan's hand speed and quick combinations were landing but Peterson had been dictating the fight from the third round. Both fighters suffered damage around their eyes - the left eye for Khan and the right eye for Peterson.
Going into the last two it was close as Khan jabbed and moved. Peterson was relentless trying to pin his opponent down but Khan was landing punches and getting out of his opponent's range.
Close
I had the fight even heading into the final round so the fight was up for grabs on my card. Khan came out and immediately got hit by a left hook. Peterson continued to force Khan and they both showed great conditioning.
About a minute into the last round Khan was deducted another point for holding but by this point I was surprised the referee hadn't disqualified him. Khan finished the round off by landing a three or four punch combo but the points he had deducted may have cost him the fight.
The judges scored the fight 113-112 twice for Peterson and 115-110 for Khan.
I scored it 113-112 for Peterson and thought the ref did a fair enough job. A rematch is most certainly going to happen but Khan needs to keep his chin down and not run as much. He also needs to set his feet to get his punches off.