Redemption of sorts
Wayne McCullough saw Miguel Cotto redeemed, but asks if Antonio Margarito should be in a ring at all?
Last Updated: 05/12/11 1:50pm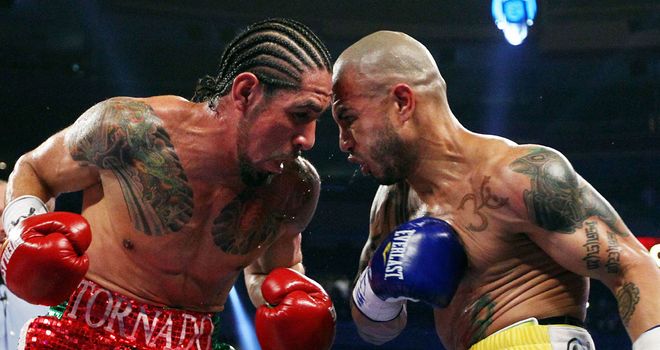 When Miguel Cotto fought Antonio Margarito in July 2008, Cotto had taken a lot of punishment up to the point of the stoppage in the 11th round.
He took two knees that same round because he had been taking a lot of shots. His legs were not gone but you could see that he just could not take any more punches.
Since then Margarito was caught with illegal wraps on his hands prior to his fight with Shane Mosley in January 2009. He had "wet pads in the wrapping" and Robert Olivia, Mosley's doctor, likened the material to the type of plaster used to make casts. His hands were rewrapped and Mosley stopped him in the ninth round, but Margarito had his license take away.
Cotto is convinced that Margarito's gloves were loaded for their fight. Nobody but Margarito knows how many times, if at all, he had used loaded gloves.
I personally feel if you cheat in any way you should be banned from boxing for life. Luis Resto, who defeated Billy Collins Jnr in June 1983, had loaded wraps and got caught after beating Collins for 10 rounds. Resto never got to fight again.
Lopsided
Margarito was coming off his lopsided loss to Manny Pacquiao in November 2010. He suffered an eye injury in that fight, but got it fixed and received his license in New York just in time to fight Cotto.
Cotto has had five fights since his first bout with Margarito with his only loss in those coming against Pacquiao. He moved up to light middleweight straight after that and won the WBC belt. This was his second defence which took place at Madison Square Garden in New York City in front of 21,239 mostly Puerto Rican fans.
Cotto didn't look good against Margarito or Pacquiao and I thought he was past his best but I'm sure he was desperate to get revenge in this rematch. In the first fight, Cotto had started the fight moving around. He had been well up on the cards after five rounds but as Margarito was hitting him he slowed badly and his face was swelling during the second half.
However, this time when Margarito landed punches they were not having much of an effect on Cotto and his face was pretty clean. Margarito's damaged right eye flared up again as Cotto landed hard punches. Cotto's left jabs and straight rights were landing clean all night as the aggressive Mexican pushed forward swinging but missing.
By the third, Cotto was taking advantage of his opponent's reinjured eye continually landing left jabs off it. Margarito was trying to get close and get Cotto into a toe-to-toe battle but Cotto was too smart as he continued to move and land shots.
Place
After five, Cotto was winning and he kept on doing what he had been doing, boxing and moving, landing punches. Margarito landed some straight rights and left jabs but couldn't keep Cotto in one place.
Margarito's eye was badly swollen by the seventh round and after eight the referee and doctor had a good look at it. He got to continue through the ninth which was a closer round but one that Cotto still controlled.
However, after this round, the doctor stopped the fight.
Margarito pleaded with the doctor to give him the next few rounds, he is that type of fighter, but instead he should have been thankful that he'd been given a second chance at all and not banned from boxing for life after the handwrapping incident. Instead he has had three big paydays and has been rewarded.
Cotto probably won all nine rounds on the cards and in a way it was redemption for him.