Saul right on the night
Wayne McCullough watched Saul Alvarez produce a Mexican master class to dispatch Kermit Cintron
Last Updated: 29/11/11 12:45pm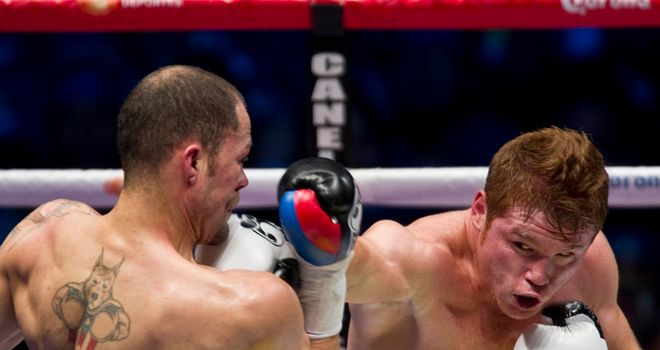 Saul Alvarez made the third defence of his WBC light middleweight belt on Saturday, the title he won from Matthew Hatton in March.
The red-haired Mexican may have had the toughest fight of his career ahead of him as he went up against Puerto Rican Kermit Cintron, a man with only four losses on his record.
Two of those were to Antonio Margarito by KO but they could be called into question because of the hand-wrapping issue. Another of his losses was by technical decision to Paul Williams in May 2010.
Still only 32, Cintron saw this fight as an opportunity of a lifetime - but just how much was left in his tank?
The fight took place in Mexico where Alvarez is a big star, so there wasn't going to be much support for Cintron. Although this was expected to be "Canelo's" toughest fight, the youngster made it look so easy.
In the first round, Alvarez took his time while Cintron tried to keep his distance by using his left jab. Alvarez landed a hard right left hook on Cintron's head that hurt him.
From this point on, Cintron didn't know what to do. He didn't take any risks over the next two rounds. Alvarez picked his punches, landing shots to his opponent's body and head. Cintron looked like he didn't want to get into an exchange nor feel the punch power again.
Picked apart
Even though Cintron began each round looking as though he was going to do something, he didn't. By the fourth, Alvarez was picking him apart with punches and wasting nothing.
Cintron had a habit of crouching down to his right with his left hand low and his chin exposed. Alvarez took advantage of that and landed hard rights and left uppercuts to his head.
A right to the head followed by a left uppercut dropped Cintron. He got up with about a minute to go in the round moving away trying to avoid any more shots. Just before the end of the round, a left and a right wobbled him again but he was saved by the bell.
Alvarez stalked Cintron in the fifth, landing punches regularly while the referee stayed close. Near the end of the round, he landed a four-punch combination - a left uppercut and a right followed by the same combo again forcing the referee to step in at 2:53 and stop the fight.
It was a superb win for Alvarez, totally outclassing a former champion who looked like he was steps below. He is getting better with each fight and he seems to be hitting harder. His defence had also improved significantly.
Alvarez says he wants to fight Floyd Mayweather next year, possibly on May 5: Cinco de Mayo (a celebration of Mexican heritage). That would be a sell out.
But I think the biggest all-Mexican showdown would be against Julio Cesar Chavez. Two young guys, one weight class apart, both world champions, neither has tasted defeat - yet.
In Mexico they could draw over 100,000 fans. If Mayweather doesn't take the bait, then this fight could happen instead.