Jury out on Junior
Wayne McCullough watches Julio Cesar Chavez Jnr stop Peter Manfredo - but wonders about his defence.
Last Updated: 21/11/11 8:52am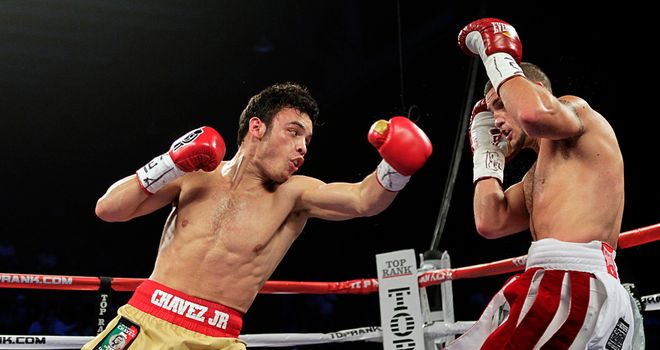 Julio Cesar Chavez Jnr was making the first defense of his WBC middleweight title that he won in June when he defeated German Sebastian Zbik.
He was stretched the full 12 rounds and pulled out a close majority decision. He was undefeated going into this defense at 43-0-1 with 30 by KO. He has been very carefully matched up throughout his young his career which started September 2003 as a 17-year-old.
Son of Mexican legend Julio Cesar Chavez, his brother Omar, is also an undefeated welterweight with 26 wins and one draw. But he doesn't get the same attention as Chavez Jnr.
Peter Manfredo Jnr was the man standing in front of Chavez this past weekend in Houston, Texas. Manfredo was probably best known for his stint on The Contender TV show in 2005. He came into this fight with a 37-6 (20 KO) record.
He had more ring experience having had a good amateur career with over 180 fights. He fought for a world title at super middleweight losing by KO to Britain's Joe Calzaghe inside three rounds and has won 6 fights since his last loss, also by knockout, in November 2008.
Manfredo can fight and has decent power. He must have seen this as an opportunity of a lifetime. In this fight he had to get close and try to entice Chavez into a fight.
Whereas Chavez needed to stay on the outside and use his height advantage - sometimes he gets into a toe-to-toe war which is wrong for him. He picks his punches well and has improved with each fight. Just like his dad, he throws a beautiful left hook to the body.
Texas has a large Hispanic community so Chavez had most of the support. Both fighters weighed in just under the 160lbs limit and on the unofficial HBO scale on fight night they had each gained about 20lbs.
Punishment
In the first few rounds Manfredo moved forward trying to get close but Chavez moved well and landed hard left jabs to his opponent's head and body. Chavez started catching Manfredo with clean rights to the head by the third - but took some in reply.
Manfredo was trying to get close but Chavez kept him at a distance with jabs. They both started trading shots in the fourth with each taking punishment. Body shots and a hard left hook caught Chavez in that round it may have been the first Manfredo won.
Then in the fifth, just as Manfredo was having a good round, Chavez connected with a straight right over his ow left that caught him on the chin. He wobbled and went back onto the ropes.
Chavez jumped on him and threw about 40 shots forcing referee Lawrence Cole to stop it just as Manfredo clinched . He wasn't hurt or getting hit by the onslaught and the stoppage may have looked a little premature but Manfredo wasn't throwing back so the ref had no choice.
A successful defense of the belt for Chavez but he still has a lot more defence to learn as he gets hit too much. A talked-about all-Mexican showdown with world junior middleweight champion Saul Alvarez, who fights next week, was mentioned as a possible future match up as well as a fight with middleweight king Sergio Martinez, who sat ringside.
Either would be very tough and maybe a step up for Chavez. He would be up against big punchers where his chin will be tested.