Herman monster
Wayne McCullough gives his verdict on the rematch between Herman Marquez and Luis Conception.
Last Updated: 01/11/11 1:46pm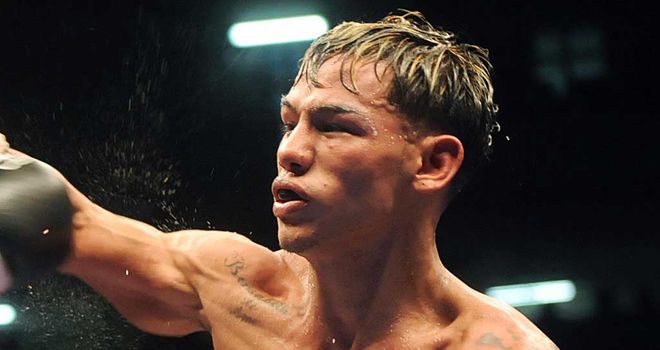 Herman Marquez fought and lost to Nonito Donaire for the WBA super-flyweight title in July last year.
Following that defeat he fought a few fights before moving down a weight to take on Luis Conception, winning in the 11th round to pick up the WBA flyweight belt.
In the second defence of his belt, he faced the Panama fighter in a rematch.
Conception had come back with a victory after losing to Marquez and was handed the chance to win back his belt.
The first time around, Marquez had to travel to Panama but this time things were different as the fight took place in his home country of Mexico.
Their losing records were similar, each tasting defeat twice, and they boasted KO power in either hand.
The pair's first meeting was a candidate for Fight of the Year, with both of them on the canvas during that bout.
That was reason enough for a rematch, but the fight had been stopped due to a swelling on Conception's eye, so combined with their non-stop punching, it was all set up for another classic.
Standing count
However, things proved to be a lot different this time around as the fight ended pretty quickly.
From the opening bell Conception tried to fight like last time, forcing Marquez back and throwing combinations, landing a left and right on his opponent's head.
But he carried his right hand low and got caught by a left hand to the head, putting him down.
Conception got to his feet quickly and took a standing eight count. Marquez pushed forward and caught him again, this time a right and left buckled his opponent's legs and he was forced to take another count.
He continued on and Marquez came in close. Conception threw but missed a right hand and Marquez dropped him with a left to the chin for the third time in the fight, with the referee immediately stepping in to stop the contest.
Conception had no idea what to do when he was hurt. He tried to trade every time he was dropped instead of tying Marquez up or moving around until he cleared his head.
Marquez, who is nicknamed 'Tyson', got his 25th powerful KO win inside 34 fights. Maybe he will get a unification bout with one of the other champions in his weight class.