Donaire still rising
Wayne McCoullough sees Filipino Nonito Donaire leave the bantamweight divison in style.
Last Updated: 24/10/11 11:06am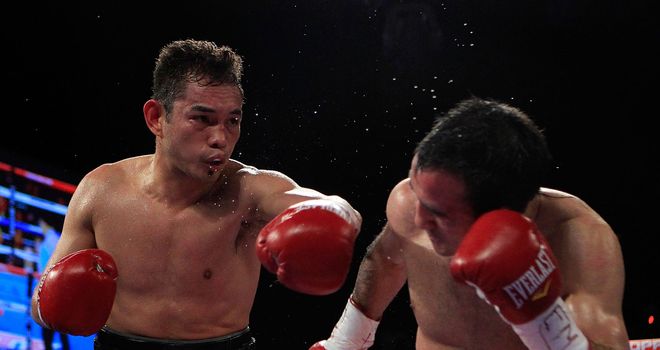 This past weekend Nonito Donaire was making the first defense of his WBC and WBO bantamweight belts that he won when he KO'd Fernando Montiel in his most recent fight in February of this year.
He faced Argentinean Omar Narvaez, who is the WBO super-flyweight champion, at the Madison Square Theater theater in front of just over 4,000 fans.
Donaire, who was born in the Philippines but resides in California, burst onto the scene when he KO'd then-IBF champion Vic Darchinyan in July 2007. That fight should have made him a star but didn't.
He defended his IBF belt three times, all KO wins, and moved up in weight hoping for a big payday rematch with Darchinyan but that didn't materialise either.
Narvaez, who was undefeated at 35-0-2 (19 KO's) had defended his WBO flyweight belt 16 times before moving up to super-fly to win the WBO title which he has successfully defended three times. Now he stepped up in weight once more for a chance at his third division title.
Donaire, a top five pound-for-pound fighter, started the fight as the aggressor and it was clearly visible that he was the bigger man. Donaire was doing everything possible to try and look good but it was hard as Narvaez was more defensive-minded.
He was doing well to avoid punches but was very negative rather than worrying about throwing punches back or wanting to win. The second round was probably the best one for Narvaez as he landed some right hooks on Donaire's head from his southpaw stance - but it might not have been enough to take the round.
In some rounds, it looked as though Donaire may have gotten rid of his opponent. He nailed Narvaez with a combination in the third and an accurate right hook stunned him but he took it. The crowd began to boo in the second half of the fight but it was Narvaez who was not fighting back.
Warning
Donaire was trying hard to land but it was hard against a guy who was willing to just get through the fight even if he was going to lose. Donaire was throwing his left jab to open up his opponent's guard but Narvaez wasn't willing to trade with him.
Narvaez was throwing a ridiculous 25-30 punches a round which, for a little guy, was bad. He was making Donaire miss a lot but wasn't countering back with anything.
The referee should have told him to start fighting back but he avoided a warning by throwing a punch once in a while. In the last few rounds, Donaire put together more combinations but Narvaez kept his guard high and moved around. It must have been very frustrating for Donaire.
The fight was scored 120-108 - a shut-out on all three cards - for Donaire. Narvaez seemed happy to walk way with his first loss and it even looked as though he was celebrating after the final bell.
There is no way he could have thought he won. His first trip to America was a terrible one and I don't think many fans would want to watch him again. Donaire should not be disappointed with his performance as all the blame must be placed on his opponent for not putting up a better fight.
This was Donaire's final fight at bantamweight as it has become a struggle for him to make weight. Jorge Arce has been mentioned as a possible fight for Donaire, or Japan's Toshioka Nishioka who both hold world titles at super-bantamweight.