South of the border
Wayne McCullough watches Mexican Abner Mares low blow his way to bantamweight success.
Last Updated: 16/08/11 12:19pm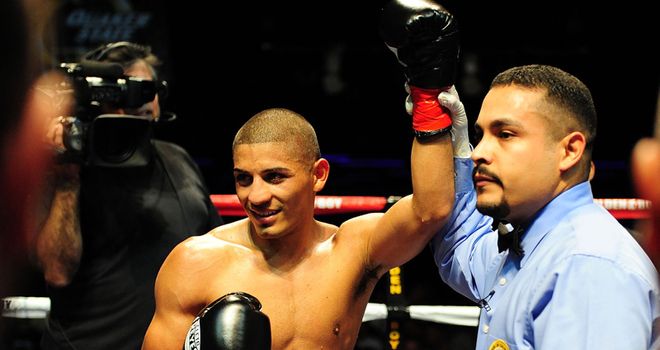 This weekend's fight between Abner Mares and Joseph Agbeko was the final fight in the Showtime Bantamweight Tournament.
It was originally scheduled to take place in April but Agbeko was troubled by sciatica after a long-haul flight to Los Angeles and the fight was postponed.
The Hard Rock Hotel and Casino in Las Vegas was the host for the IBF bantamweight and WBC silver belt clash, with the victor also being declared the tournament winner.
I think it's a good idea to have tournaments like this one but just like the super-middleweight Super Six series, there were some champions missing. It would be better if all of the champs participated - then we would have one unified champion at the end.
During the semi-finals bouts, Mares defeated Vic Darchinyan by split decision with both fighters having touched the canvas in that fight and Agbeko, who fought on the same card last December, defeated Yonnhy Perez on points.
Mares, a 2004 Olympian for Mexico, who was a slight favourite over the champion Agbeko, began the fight landing hard left hooks. He piled the pressure on and with about 30 seconds left in the first he landed a left to the body.
Recover
Agbeko threw a left hook of his own but missed and was on his way to the floor when another left clipped his head. The referee called a knockdown. Agbeko finished the round but lost it 10-8 on the cards.
It was a bad start for the champion.
Mares was landing a lot of low blows in the first few rounds but he was also setting a very fast pace. Through the first three, Agbeko did not look sharp. He was trying to get things going but couldn't.
In the fourth, as Mares jabbed, Agbeko landed a hard right to his head rocking the Mexican to his boots. He stayed up and with a minute to go in the round he seemed to recover quickly but Agbeko didn't press the action to try and finish him. Agbeko, who fights out of New York, was short with his left jabs leaving himself open for counter right hands.
The referee, Russell Mora, had warned Mares at least five times for low blows but didn't take a point off him.
A clash of heads in the sixth opened a cut on Mares's left eye which would have been bad for Agbeko if the fight was stopped because he was well behind on the cards at this point.
The low blows continued but still no points were deducted.
Punished
Agbeko got his right hand working a little in the ninth but by this stage he probably needed a knockout or at least a few knockdowns to win. He stepped it up in the 10th landing uppercuts but got hit with another clear low blow by Mares. The ref still did not deduct a point when, by now, there should have been a few deductions to say the least.
Just as both guys traded in the 11th round, Mares landed another low blow of which the ref was in clear view. Agbeko went to his knees and surprisingly the ref counted him. He got up, no point deduction. By then it could easily have meant disqualification.
Mares came out in the last round and moved away from his opponent knowing he was ahead in the fight. Agbeko tried right up to the final bell but just wasn't himself. Mares fought well but should have been punished for his illegal shots.
The referee should not be allowed to work another fight until he watches this one again to see the mistakes he made and the points he should have deducted. He ultimately took the attention away from a good fight. Two judges gave the fight to Mares with scores of 115-111 and the other scored it a draw at 113-113. I also scored it 113-113.
Mares became a world champions but Agbeko really does deserve a rematch.