Find out some secrets from some of the biggest names in the game on Seconds Out
Last Updated: 23/08/13 5:39pm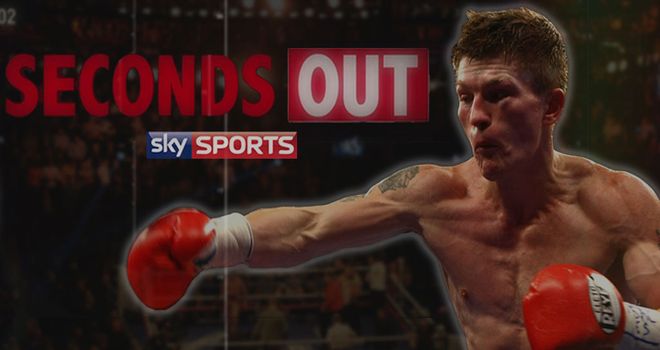 Hard hits, the odd-low blow but plenty of laughs and the sides of boxers you never knew... welcome to Seconds Out.
Our exclusive quickfire Q&A will put the biggest names in the game under the spotlight.
Be they world champions, young prospects or former superstars, we put them through their paces.
It is not all about their boxing skills and secrets either as we quiz them a lot, lot more about their life outside the ring.
Family, food, films, football, it's all there, folks, so click on the videos below to see what your hero will reveal...
SPENCER OLIVER
Seconds Out... Spencer Oliver
AGE: 38
FROM: Barnet
IS: Former European Super-Bantamweight champion
IF I COULD FACE ANYONE: I think I would've liked to face Marco Antonio Barrera. At the time he was the number one in my division and I was ranked number two. That was a fight I craved.
DARREN BARKER
Seconds Out... Darren Barker
AGE: 31
FROM: Barnet
IS: A middleweight
MY FAVOURITE EVER FOOTBALLER? For years it used to be [Gianfranco] Zola but after his performances and how many times he has got us out of trouble... [Didier] Drogba.
ROBIN REID
Seconds Out... Reid
AGE: 25!
FROM: Sefton, Liverpool, now based in Bolton
IS: Former WBC super-middleweight champion of the world
IF I COULD FACE ANYONE? It will be Joe Calzaghe again! I'm waiting for that (second) fight still... and I would do it tomorrow! If I got a call and somebody put it on I'd take it!
GLENN McCRORY
Seconds Out... McCrory
AGE: Shrouded in mystery... and is staying that way!
FROM: Newcastle-upon-Tyne
IS: Former cruiserweight champion of the world
IF I WASN'T A BOXER? If I wasn't a boxer I'd probably have wanted to be an actor because I had quite a career in it. I even auditioned for James Bond.
JOHNNY NELSON
Seconds Out..Johnny Nelson
AGE: Next question
FROM: Sheffield
IS: Former cruiserweight world champion
FAVOURITE PUNCH? A dirty little uppercut! I broke the nose of the Aussie Adam Watt and it knocked him out. You don't see it coming but it when it gets you, all you hear is the crack!
DERRY MATHEWS
Seconds Out... Mathews
AGE: 27
FROM: Liverpool
IS: British and Commonwealth lightweight champion
BEST FIGHT EVER? Micky Ward and Arturo Gatti. I still watch them today, every one of them was a great fight so credit to both of them for being part of it. Unbelievable!
KELL BROOK
Seconds Out...Brook
AGE: 27 (was 26 at the time!)
FROM: Sheffield
IS: World title contender
FIRST BOXING MEMORY? Walking onto the gym and seeing Johnny Nelson, Ryan Rhodes and Naz, sparing in the ring. I looked up to them... I was that young kid!
RICKY HATTON
Seconds Out...Hatton
AGE: 34
FROM: Manchester
IS: Four-time, two-weight world champion
FAVOURITE FIGHTER: It was Roberto Duran. I felt blessed that I met him on several occasions and I tried to model myself on him in several ways, not just in fighting terms or technical ways. He was a man of the people.