He's a superstar!
Brook must feel the fear and thrive on it, says Johnny
Last Updated: 16/03/12 2:26pm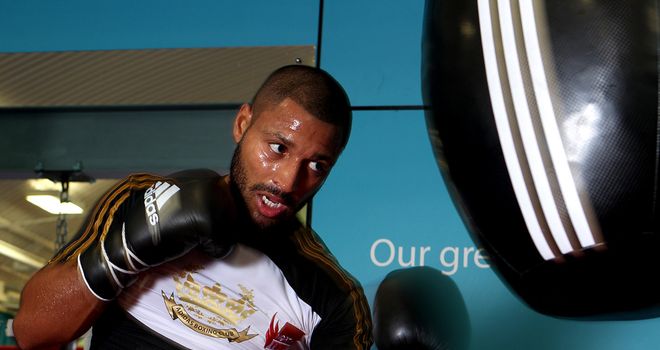 Brook: can get Sheffield buzzing, says Johnny
Sky Sports expert Johnny Nelson believes Kell Brook's War of the Roses welterweight bout with Matthew Hatton could reveal just how much of a "superstar" he could become.
LIVE ON SKY SPORTS
Kell Brook v Matthew Hatton
9pm, Sat, Sky Sports 1 HD
Also showing on Sky 3D
Watch on the move with
Sky Go
How to
remote record
"I hope he is under immense pressure. That way it creates fear and nerves and he can box to the best of his ability."
Johnny Nelson on Kell Brook Quotes of the week
Brook is heavy favourite for the bout in his hometown of Sheffield, having yet to suffer a defeat in 26 fights.
However, Hatton's superior experience, with 49 fights behind him, makes the Mancunian a dangerous opponent, according to Nelson.
"Matthew Hatton should be the winner on paper," he told Sky Sports News HD. "But we are talking about youth against experience.
"We are talking about a potential superstar coming through the ranks. This fight will tell us how much of a superstar Kell Brook could be."
Fear
Brook will be under huge pressure in front of his hometown crowd and Nelson hopes the Sheffield fighter can harness the nerves to prevent any complacency from setting in.
"I hope he is under immense pressure," Nelson said. "That way it creates fear and nerves and he can box to the best of his ability. That is what I hope.
"My fear is that he thinks this is a push over and therefore Matthew Hatton is going to come from behind and steal it on points. He could be like a pick-pocket.
"He needs pressure, he needs fear, he needs to know he has to perform. It is not just about beating Matthew Hatton; it is about beating him in style so he has to do a good job."
Courteous
Nelson hopes a victory from Brook can lead to a renaissance in British boxing, as well as bringing some much-needed respectability back to the sport following the fracas between David Haye and Dereck Chisora in Munich.
"Sheffield started to get a real buzz about when this fight was announced," added Nelson. "And this week has just been crazy.
"I hope it's going to be like the old days again when we had Prince Naseem Hamed, Herol Graham and myself filling these arenas out. I think that could happen as long as Kell does his job.
"These guys can now get us a bit of respectability back with a great performance. So far they have been courteous, respectful, dead right with each other and this is what people want to see.
"You have got mothers, children, grandparents coming here to watch these guys get weighed in; that's the crowd you want and that's the kind of attention you want."