Paul Butlin warns Anthony Joshua to expect non-stop aggression in their bout
Last Updated: 29/10/13 1:44pm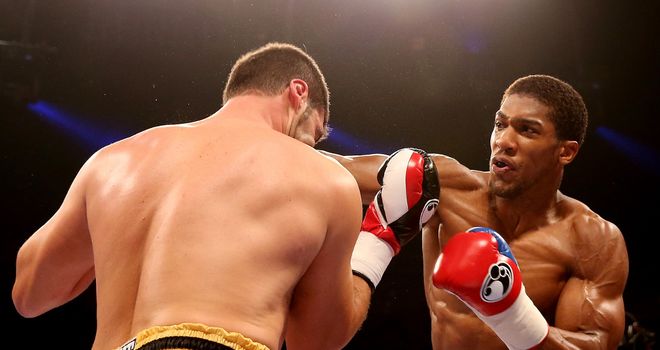 Anthony Joshua in action during his win over Emanuele Leo
Anthony Joshua has been warned to expect "non-stop aggression" from Paul Butlin in their heavyweight bout in Sheffield tonight.
Veteran Butlin, 37, has won just 14 of his 33 professional contests, which include defeats to Dereck Chisora and Johnathon Banks.
But Butlin has insisted he will give Olympic champion Joshua a tougher test than he might expect in his second fight since joining the professional ranks.
Butlin told the Daily Mail: "I will bring non-stop aggression. It is common sense, I can't keep it long. I am going to have to put it on him from round one.
"If I don't, he will stop me. The reach on him, the speed of him, the power of him, if I don't put it on him then I will get stopped.
"It doesn't matter how muscly you are, you can't change your jaw - you could have the best body in the world but it doesn't make you the best boxer, it doesn't mean you have a good jaw. On Saturday that is what I am going to do - test his jaw.
"Anthony is a nice kid, a gold medallist as well, so it will be an honour to share the ring with him.
"He is good, he is sharp, but it is the start of his professional career so there are weaknesses I noticed on his debut.
'Madness'
"With some opponents you can get angry off with them, but he is such a nice lad. I think it will be a good fight. We will shake hands at the end and be alright with each other. We are both there for business, and that is what will happen.
"I think it is madness him facing somebody like me in his second pro fight. On the other side, I think Eddie Hearn is making a statement and being a gold medallist you should be able to make those statements.
"You are the best in the world as an amateur, and turning pro you should still have that pedigree."
But Joshua believes he can follow up his win over Emanuele Leo earlier this month with another convincing victory against Butlin.
"The quality of opposition will get better and that is good, because it means I will need to get better," he said.
"I can only defeat what is in front of me, so whoever it is I have to do my best. In this game I want to keep on learning in the gym and take that into the ring, give it my best and hopefully dispatch my opponents.
"You know what boxing is like, it only takes one shot. But hopefully tonight I can slip in, get a win and slip out again and then plan for the next show.
"I need to put in a lot more groundwork in the gym. Leo was 8-0 and on paper it was a great fight. At the stage I am at now I am so far from where I want to be so I have to keep grinding it out in the gym."
Watch Joshua and Kell Brook in action live on Fight Night, coverage starts at 6pm on Sky Sports 3