Sanders dies aged 46
Former world heavyweight champion gunned down in robbery
Last Updated: September 23, 2012 11:47am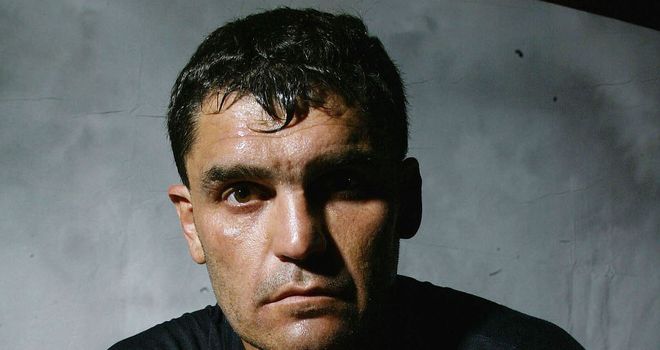 Corrie Sanders: Murdered in native South Africa
Former world heavyweight champion Corrie Sanders has died at the age of 46 after being shot in a robbery.
The South African was dining at a restaurant in northern Johannesburg when he was shot in the stomach, and he died of his wounds in hospital hours later.
North West Police Brigadier Thulani Ngubane told Press Association Sport that gunmen entered a restaurant in the town of Brits where Sanders was attending his nephew's birthday celebrations.
Brigadier Ngubane said: "I can confirm Corrie and his family were celebrating his nephew's birthday, turning 21, and enjoying a meal last night. In the midst of the celebrations, at about 7.45pm in the evening, about three suspects came in.
"They were planning to commit an armed robbery.
"Then in the armed robbery they shot randomly. Corrie was shot in the hand and also the stomach.
"They fled with a digital camera and also a handbag of one of the people who was in the restaurant."
Underdog
Sanders was rushed to Kalafong hospital but died "in the early hours of the morning", Brigadier Ngubane said.
There have been no arrests in the case, he added, but stated police are "in hot pursuit".
Sanders caused one of the biggest upsets in heavyweight history in 2003 when he sensationally knocked out Wladimir Klitschko in Germany to win the WBO title.
The southpaw had gone into the bout as a huge underdog, but he dropped Klitschko twice in a dramatic opening round before finishing him off with a huge left in the second.
Sanders was stopped by Klitchsko's brother Vitali in the eighth round of his next fight in 2004, but he won three more fights before a first-round knockout against Osborne Machimana in 2008 ended his 20-year career.
He turned professional in 1988 and first held the South African heavyweight title with a first-round knockout of Johnny DuPlooy in 1991.
Sanders, renowned for his quick hands, won his first 23 fights and retired with a record of 42 victories, with 31 knockouts, and four defeats.