Burns maintains focus
Scottish lightweight admits being uncomfortable in the spotlight
Last Updated: 18/09/12 9:06pm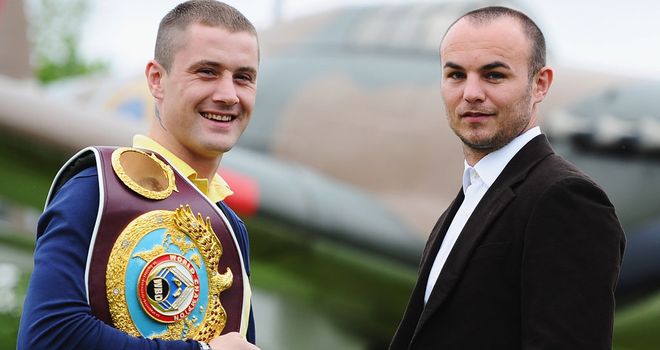 Ricky Burns (L) and Kevin Mitchell: Will do battle for the WBO lightweight title
Ricky Burns says he will let his hands to the talking when he defends his WBO lightweight title against Kevin Mitchell in Glasgow on Saturday.
The 29-year-old Scot will be looking for his 20th straight win when he takes on Mitchell at the SECC but is being careful not to get carried away with the hype of his recent success.
He has ultimately fulfilled the prediction made by former middleweight king Marvin Hagler, who tipped Burns to become a world champion while watching his first professional fight from ringside.
Burns is now firmly established on the world scene but is still "embarrassed" at times by the attention he receives.
"That was actually my first fight at the Kelvin Hall, where Hagler was commentating," he said.
"It is unbelievable that someone like Marvin Hagler would say that but again, stuff like that doesn't really bother me.
"I just want to get in there and get on with my job. I don't really like all the attention and all the spotlight on me. All that side, I seem to get embarrassed by it all.
"I just want to get in there and get on with my job. I don't really like all the attention and all the spotlight on me"
Ricky Burns Quotes of the week
Attitude
"People have asked me how I have changed since becoming world champion. I haven't changed as a person but my attitude towards boxing has.
"I am getting more confident. I am getting stronger and I can see a big improvement. Come fight night, it is always good to have your home support but once that first bell goes, I will put it to the back of my mind and get on with the job.
"I think it is going to be a great night."
The friendship between Burns and his Dagenham opponent has been well chronicled in the build-up to the contest but the champion insists he will be as ruthless as ever in the ring.
He added: "I have known Kevin for a few years, we came through the ranks together and have always been with the same promoter.
"But once you step into that ring it is down to business. It is my job. Once I am in there I will do what I need to win. I said hello at a conference call last week but there has not been much contact.
"We have a press conference on Thursday and we will speak then but most of the talking will be done in the ring.
"I am expecting a tough 12 rounds but we have prepared for what happens on the night and the fans are in for a treat."