Rio goal for Joshua
Olympic champion plans to fulfil Team GB contract
Last Updated: 07/09/12 8:31pm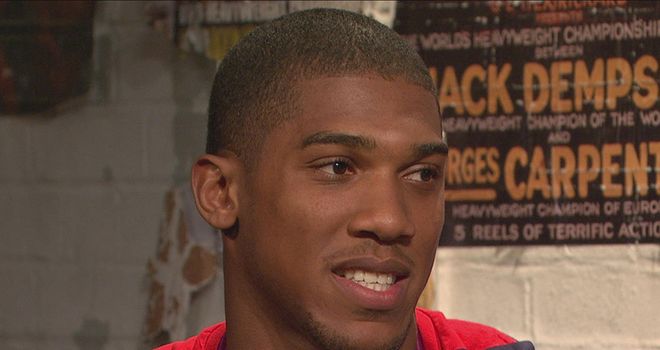 Joshua: won final against Cammarelle on count-back
Super-heavyweight Anthony Joshua told Ringside he has no immediate plans to turn professional despite his gold medal success at the London Olympics.
"I haven't fought for that long but I'm here and I've got to accept it and I've just got to get a lot better."
Anthony Joshua Quotes of the week
Joshua, 22, beat defending champion Roberto Cammarelle on count-back in a dramatic final last month but insists he will continue in the amateur ranks for a possible shot at Rio 2016.
"I'm back in the gym September 17," he told Johnny and Adam. "We're all contracted to Team GB and I'm going to do the right thing and fulfil my contract. I'm just focusing on improving as a fighter as I just want to be the best.
"I haven't fought for that long but I'm here and I've got to accept it and I've just got to get a lot better because to win what I've won so far with the little experience that I've had - imagine what I can achieve when I start building on that."
Team GB topped the boxing medals table courtesy of three golds - for Joshua, flyweight Nicola Adams and bantamweight Luke Campbell - and Joshua said that success had helped to breed success within the camp.
"It's always been a good vibe, carrying it from other tournaments right the way through leading up to the Games.
"Everyone wanted to go there and medal - everyone was capable of getting one - and although not everyone did, the atmosphere in our little circle was 'go on and achieve it for the team' even though boxing is an individual sport. But we are still representing Team GB."
Tight
Gold seemed to be slipping from Joshua's grasp when he went into the final round of his final trailing Cammarelle by three points, but he rallied to level the fight at 18-18 before winning on count-back after an appeal against the decision from his opponent.
"I knew I was down going into the last round, which didn't make me want to turn away and accept defeat," he said. "I wanted to go out there and give it everything I had.
"When it went to count-back I thought 'this is tight' but at least I've managed to pull it back. That showed me that I'd given it everything that I had.
"It could have gone either way because it was good, close fight. Nothing is easy in the Olympics. But I got the decision, which I was happy about.
"I didn't expect anything less than for them to make a complaint because I've beaten him before and they don't take defeat that well. I didn't have any worries because I honestly thought I'd won the fight."
Role-model
For her part, Adams made history by beating China's Ren Cancan to become the first female boxer to win an Olympic gold and she hopes that her success can now inspire other females to try - and take up - the sport.
"It's an honour that people see me as a role-model," she said. "I'm just really happy that the women's boxing came across so well.
"I'd been training hard and I was just ready to go; I boxed superbly against each opponent because I'd trained hard back in the gym.
"It's all been a bit mad so far but I'm looking forward to getting back to the gym and getting under the weight and going for 2016."
Hit the video at the top of the screen for Ringside reporter Ed Robinson's review of the boxing at London 2012.