Amir Khan has quashed rumours of a December return against Joan Guzman
Last Updated: September 5, 2012 2:21pm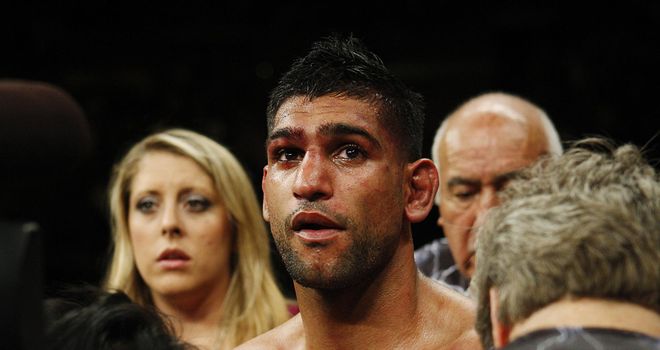 Amir Khan: Seeking a more credible opponent that Joan Guzman
Amir Khan says he will return to the ring on December 15, but it won't be against Joan Guzman for the WBA light-welterweight title.
Rumours had circulated that the pair were on collision course after Guzman was told he could an opponent for his mandatory shot at the vacant 'regular' strap.
However, Khan has quashed the speculation, saying Guzman was 'below his level' despite being an undefeated two-weight champion.
"I want someone who is a bit more credible than him," Khan - who has lost his last two fights - told the Manchester Evening News website.
"I've come from world title fights and he might be a little below that.
"We're just getting the dates right. It will either be in England or America, December 15 is the date."
Mentor
The Briton has yet to decide whether to continue to be trained by Freddie Roach, but he said he is seeking the guidance of some former world champions in a bid to shore up his leaky defence.
"I'll be going to New York to speak to a few coaches and maybe bring in a mentor who can help me in defence," he added.
"I'm mainly looking at ex-fighters, Bernard Hopkins, Oscar (De La Hoya) and maybe Shane Mosley, they all want to help out and show their support."
And in a thinly-veiled swipe at Roach, Khan said: "If we had the defence we should have had we would be the best fighter in the world. That's the downfall of me and Manny Pacquiao - we're both offensively the best fighters in the world, but defensively we're not the best."
For Guzman, it now looks as though he will take on hot Russian prospect Khabib Allakhverdiev in December with talks close to being concluded.