Groves flies the flag
Briton aims to come back with a bang in the States
By Tim Hobbs. Last Updated: July 26, 2012 5:06pm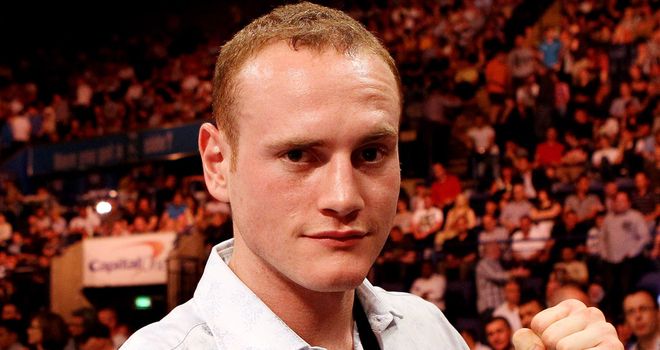 Ready to roll: Groves is back after injury forced him out of Anderson clash
George Groves is out to put British boxing back on the map - on the day the Olympic bouts begin.
" I can show everybody what I am all about and what the future holds for me."
George Groves Quotes of the week
The British and Commonwealth super-middleweight champion is in San Jose, California, for his first fight in eight months as he takes on Mexican Francisco Sierra on Saturday night.
The London 2012 boxing begins hours earlier and although Groves is missing it, he is determined to make America sit up and take notice.
And with 2008 gold medallist James DeGale, of course, on the 24-year-old's list of scalps and 2004 silver medallist Amir Khan rebuilding his career after his recent defeat to Danny Garcia, undefeated Groves is delighted to fly the flag.
"Of course it's great to be fighting out in the States, even if the Olympics are starting before I get home," he told skysports.com from San Jose.
"There's a lot going on at home in London at the moment with the Olympics, but I am glad to be out here in the States flying the flag. We've had one or two British fighters come unstuck trying to show them that Brits can do well abroad.
"I want to show everyone - it's great to fly the flag."
Identified
Saturday night's 10-rounder is on the undercard of Selcuk Aydin's fight with unbeaten Robert Guerrero; it is a Golden Boy show, televised by Showtime and BoxNation (Sky channel 437), giving Groves the chance to announce himself Stateside.
He is hoping David Haye can change his holiday plans to be in his corner against Sierra and he believes he will be back across the Atlantic in bigger and better fights, providing he overcomes this tricky test.
A first fight of 2012 is one thing, but Groves knows he cannot use this simply to blow away the cobwebs.
"If I do put on a decent show then Golden Boy could come knocking again," he said.
"Robert Diaz (their matchmaker) is keen on me and he relates back to the other Golden Boy guys about me. He's done that for years now in fact, ever since I was an amateur in the ABAs, when he must have identified me as a talent, I suppose.
"But then he's seen me win big fights and draw big crowds in my professional career and being a super-middleweight and being a good fighter, I could have a future for big fights over here in the States.
"It's great that they have put the time and effort into me and invested in me and given me fights in the States and given me the chance to build up a fan-base over here. Obviously I am not going to set the world alight because it's not a world title fight, but I can show everybody what I am all about and what the future holds for me."
Variety
Groves' future will include a British title defence against Kenny Anderson - one of two big fights he was forced out of in the last few months.
It looks like it will be held at Wembley in September - purse bids permitting - which means Sierra is almost the start of another long training camp for a fighter who admits that now he is a championship fighter, three or four fights a year will be his livelihood from here on in.
And he says that showing his domestic rivals what he can produce after all this time out, is every bit as important as giving British boxing a timely boost.
"You'll definitely see a new side to me. More improvement, more variety to my boxing," he said.
"I am much more fluid with an effective style of the bits I have put together in my last few fights.
"This guy Sierra is a big puncher so he is going to come out looking for me, so it is going to be entertaining I'm sure!
"But I am sure that he is going to feel me get rid of all the frustration of two camps - all the time I invested in both when nothing came to fruition - once my own big shots land.
"Sierra is going to be sore in the morning... and well beaten, as well."