Charr ready for Klitschko
German confident of taking down the champion
Last Updated: 20/07/12 11:53am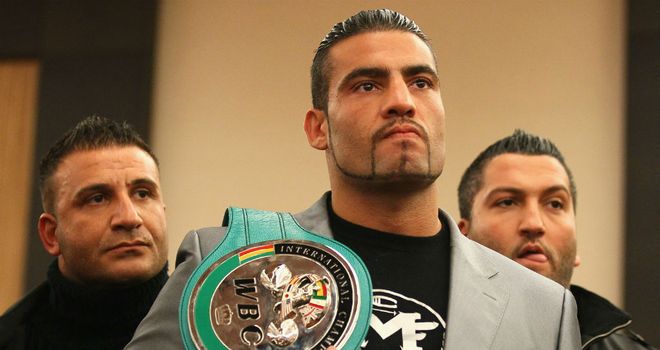 Manuel Charr: Confident of causing an upset against Vitali Klitschko
Manuel Charr is confident of causing an upset when he goes toe-to-toe with WBC heavyweight champion Vitali Klitschko on September 8.
The pair meet in Moscow with Syrian-born German boxer Charr putting his unbeaten record from 21 bouts on the line against the champion.
Klitschko, 41, brings an impressive record to the table having fought 46 times, emerging victorious 44 times and claiming 40 of those by way of knock out.
"I'm only 27 years old and have a lion's heart. I'll succeed. I'm determined to win."
Manuel Charr Quotes of the week
Charr has been working harder than ever in training and the 27-year-old believes whoever shows the biggest heart on the night will emerge with the win.
Klitschko opted for the fight instead of taking on David Haye and now Charr has challenged the Brit to a showdown if he wins the WBC belt in Russia.
Confident
"I've been going through extensive training for the match," said Charr. "I've competed in 21 matches and won them all.
"I've trained a lot with very strong boxers who are former world champions. Now I've this chance with Vitali Klitschko and I'm confident I'll win.
"It's well known Vitali Klitschko is famous for his patience, but I'm only 27 years old and have a lion's heart. I'll succeed. I'm determined to win. We'll see on the day who will win. I think the one with the bravest heart will win the match.
"Vitali Klitschko is the world champion. The strongest boxer in the world. He's stronger than his brother, Vladimir Klitschko, but I'm not frightened, I only fear god. I'll work out the plan for the match with my trainer, Clive Zelts and we'll see what's going to happen on the day.
"David Haye came from a classic boxing background. He's a fast boxer, but I know the way to play against him there is a specific technique to be applied against him. He punches very hard but he makes many mistakes which can be used against him."