Boente: Haye is nothing
Klitschko's manager issues swift response to Haye's comments
Last Updated: 15/07/12 3:31pm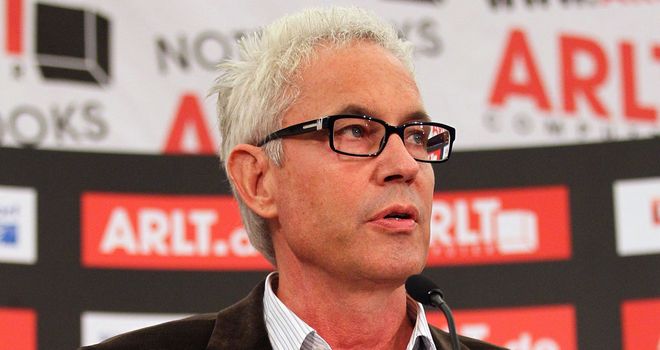 Bernd Boente: Haye is not in Klitschko's plans
Vitali Klitschko's manager says David Haye 'means nothing to him' after the Briton said Klitschko would be running scared after his win against Dereck Chisora.
In a swift counter, Bernd Boente revealed Klitschko's focus will be on politics after he has fought Manuel Charr on September 1 in what is likely to be his farewell.
"At the moment David Haye means nothing to us and Vitali is definitely not afraid of fighting him."
Bernd Boente Quotes of the week
And Boente said Haye had already had his chances to take on the WBC champion, but had chosen a different route.
"We offered Haye the fight September but he chose to fight Chisora instead because that was easier for him," Boente said.
"David probably turned Vitali down because he got more money against Chisora, who is by far the easier opponent.
"We had a contract ready for Haye, had booked an arena, but he turned us down for a second time - the first time he chose to face Nikolay Valuev instead.
"After fighting Manuel Charr, Vitali goes on the campaign trail for parliamentary election in the Ukraine. He's the leader for the opposition, UDAR.
"Should he be elected on October 28 then he will probably stop boxing. For him politics is the future - he wants to fight for democracy.
"But even if he's elected, maybe he'll want to have a farewell fight.
"At the moment David Haye means nothing to us and Vitali is definitely not afraid of fighting him."
Injury
Haye was keen to compare his five-round demolition of Dereck Chisora against Klitschko's effort against the same fighter earlier this year, when Chisora went the full 12 rounds with the Ukrainian.
But Boente insisted Haye was 'all mouth', and that Klitschko suffered a shoulder injury during the fight.
"I was more disappointed by Chisora's poor display. He was out of shape and looked in better shape against Vitali," he said.
"Saying his performance against Chisora was too good, that Vitali won't want to fight, was typical Haye. He has a big mouth and is like a little dog that yaps.
"We all know the calibre of fighter Vitali has fought in the past, including Lennox Lewis. I'm sure he's not impressed by that performance.
"Chisora fought a stupid fight and was completely open. Vitali would also have knocked out Chisora had he not suffered that injury in the third round.
"He fought Chisora with only his right arm, he could not use his left arm any more."