Khan cool at weigh-in
Briton easily inside the light-welterweight limit
Last Updated: 14/07/12 11:56am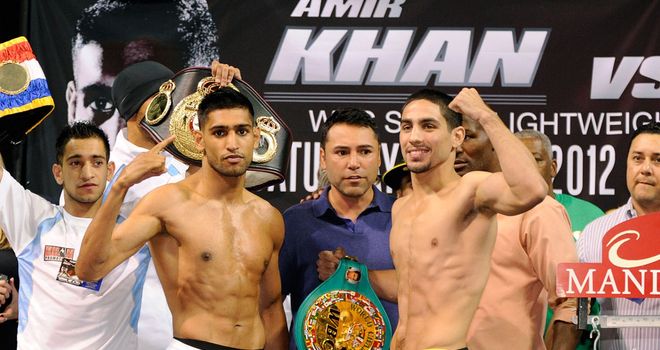 Amir Khan (L) and Danny Garcia both came in under the 140lb limit
Amir Khan came in a pound under the 140 limit for his light-welterweight unification fight against Danny Garcia on Saturday night.
Khan, who will step up to the welterweight division should he win at the Mandalay Bay in Las Vegas, tipped the scales at 139lb - the same as his American opponent.
The Briton told Sky Sports he has never felt better before a fight after being joined in this camp by David Haye's nutritionist Ruben Tabares.
"We know what to do, I've been here so many times now," he said. "I had breakfast and a drink in the morning so I wasn't starving myself, after the last session yesterday I was way underweight so I had a meal last night.
"I walked into the weigh-in really happy and really cool, not as drained as I normally am, but I'll go and re-hydrate and come in around 148.
"I'm more than ready and you can see in Garcia's eyes he was a bit on edge, a lot of nervous energy."