Ortiz not looking past Lopez
Saturday's fight has American's attention
Last Updated: 19/06/12 12:55pm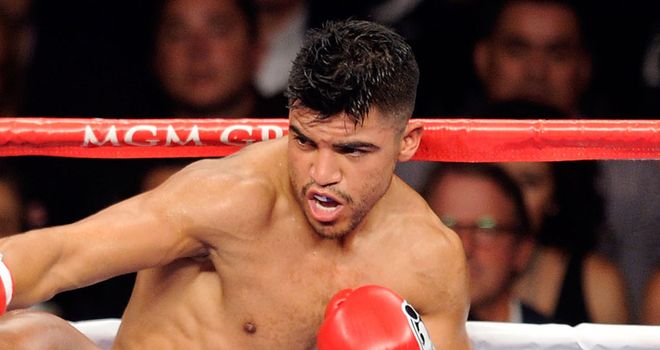 Victor Ortiz: Focused on Lopez despite Alvarez announcement
Victor Ortiz says he is not taking Josesito Lopez lightly ahead of their welterweight clash in Los Angeles on Saturday night.
Ortiz takes on Lopez in his first fight since losing to a controversial knockout punch against Floyd Mayweather last November.
Andre Berto had initially been his next opponent in a rematch of their world title clash last year before Berto failed a drugs test.
Only last week, Ortiz was named as the next opponent for WBC light-middlweight champion Saul Alvarez on September 15, but Ortiz insists he is not looking past Lopez.
"I just want to say that I don't disrespect anyone," he said. "I'm fighting Josesito Lopez on June 23, who I've been training for and ignoring everyone else possible.
"There's a dangerous fighter in front of me who is on the same path as I was a year ago before I fought Berto, but the difference here is I'm too hungry to let my chance go.
"As far as I'm concerned I'm ready for June 23. If he wants to go to war, we'll go to war. If he wants to box, then we'll box. It doesn't really matter. I'm there to take what is rightfully mine. At the end of the day, I know Josesito is ready to go and so am I, so that makes two of us."
Lopez (29-4) comes into the fight on the back of a controversial points defeat to the up-and-coming Jesse Vargas, but the 27-year-old wants to put that behind him.
"I do think I won that fight and nine out of 10 people who saw it thought I won," he said. "Unfortunately, the judges didn't see it that way, but hey, that's the way it goes.
"Our job as fighters is just to bring everything we can and hope for the best and hope that they see it the correct way.
"My only motivation right now is just June 23 and Victor Ortiz. I don't even think one hour past June 23. That's the only thing that drives me right now. I don't care about any other dates or times right now. There's nothing else that matters to me."