Hatton backing for Murray
St Helens slugger wants to make a statement on ring return
By Adam Norman. Last Updated: June 15, 2012 11:38am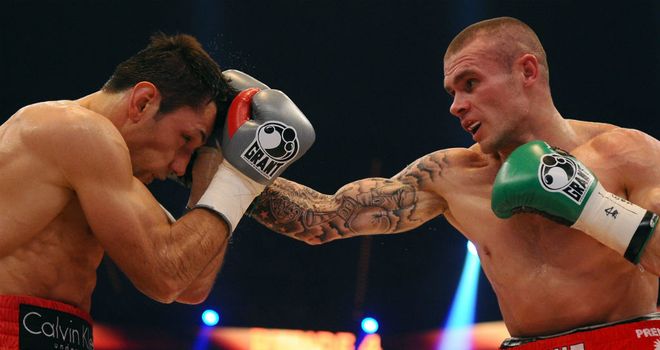 Martin Murray: Has impressed Ricky Hatton
Ricky Hatton believes Martin Murray proved himself an elite-level fighter in his draw with WBA middleweight champion Felix Sturm last year.
Murray surprised many with his performance in December, holding his own with the German despite having little experience beyond these shores, in some eyes doing enough to earn the victory.
Nonetheless, with his stock rising promoter Hatton set about looking to secure fights with fellow world title contenders Darren Barker and Matthew Macklin, as well as a tilt at WBC champion Julio Cesar Chavez jr.
The latter fight was initially slated to take place this weekend, before the United States refused Murray a visa on account of his past criminal record.
The St Helens slugger will instead take on French champion Karim Achour on the Scott Quigg v Rendall Munroe undercard in Manchester, where the 29-year-old will once again be looking to impress.
"It was a fantastic performance against Felix Sturm in Germany," said Hatton. "It was one of those fights, it could have gone either way.
"All the talk beforehand was whether Martin had the experience to be mixing it with Felix Sturm. Everyone was saying it was a jump up, which it was, but he certainly answered all the questions.
"We did make a fight with Chavez but he was refused a visa. That's not to say he can't get a visa, we are working on that so if an opportunity in the States does come along Martin will be able to take it."
Experience
Both Hatton and Murray are keen to prove he is the best around at 160lbs, with the former British and Commonwealth champion ready to take on all-comers.
"I can't speak more highly of Martin, I believe he's the best middleweight in the country," added Hatton.
"We tried to make the Darren Barker fight but unfortunately Darren was injured. We also tried to make the Matthew Macklin fight but he priced himself out of it in my view, which he did against Felix Sturm (for a rematch), but Matthew's loss was Martin's gain.
"I can't speak more highly of Martin, I believe he's the best middleweight in the country."
Ricky Hatton Quotes of the week
"This is a man in a hurry, when we sat down to negotiate a fight with Martin he's just said yes to everything, he just wants to fight the best and that's right up Ricky Hatton's street.
"He's probably got half the experience of Barker or Macklin but hopefully those fights still can come off, but over the next few weeks I hope to announce something really major for Martin.
"He just needs to perform and make a statement. This guy is the French champion and has a high ranking in the world ratings, so he needs to put in a performance that shows everybody on the domestic and world stage that he's the man to watch. I believe he is."
Murray added that while any number of big fights could await somewhere down the line, he cannot afford to look past Achour on Saturday night.
"This fight is by far my most important fight," he said. "Looking back to my last fight it's two different opponents level-wise, but this is still a good test and to have some good fights in the future I've got to get past this man on Saturday, so I've been motivated more than ever.
"I could be on to something very big in the next couple of weeks, so I've just got to get on with the job on Saturday. I've got a good test, and I want to put on a good performance."