Edwards ready for next step
Former British champion has experience edge in title clash
By Adam Norman. Last Updated: 10/05/12 10:04am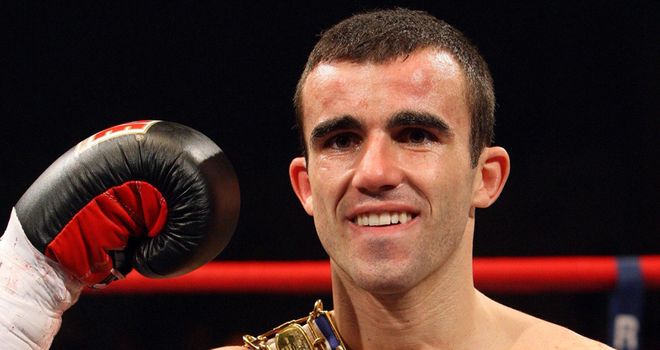 Paul Edwards: Held the British title before losing it last year
Paul Edwards believes his experience will be a key factor when he takes on Kevin Satchell for the Commonwealth flyweight title on May 19.
"I've learned loads and the experience will have done me the world of good. I'm confident I can go the 12 rounds."
Paul Edwards Quotes of the week
The fight, which sees the former British champion competing for a second major belt, takes place on the David Price v Sam Sexton undercard at the Aintree Equestrian centre.
And Edwards says his narrow points defeat to Chris Edwards last summer, when he went 12 rounds for the first time, will stand him in good stead against the inexperienced Satchell.
"It's massively important, more so now that's it's a 12-rounder," he told Sky Sports after learning the fight, formerly for the English title, had been upgraded. "Kevin has only ever gone six rounds before and that's a big advantage to me.
"I wanted the rematch straight away. I've changed trainer and I'm fitter now than before the Chris Edwards fight, I know that for a fact. I'm better physically and mentally.
LIVE ON SKY SPORTS
Commonwealth flyweight title
Paul Edwards v Kevin Satchell
Saturday May 19
"I thought I won the fight, the more I watch it back. I started well and switched off mentally in the middle rounds. Watching it back I can't really remember the middle rounds, then I came back into it.
"In my head I was thinking about my fitness, I knew I had it but mentally I wasn't in the right place, but that happens in championship fights and it was my first 12-rounder.
"It was down to experience, I thought I was ready but obviously I wasn't as I switched off, but I've learned loads and the experience will have done me the world of good.
"I'm confident I can go the 12 rounds, I know that I'm ready and I've been sparring 12 rounds with 30 seconds rest so I know I'm fit and there's no anxiousness going into the fight.
"I just want to get in there. Kevin's been talking a good fight, he's tough, strong and fit, but I just believe I'm levels above him."
Confidence
Satchell, who at 23 is two years younger than Edwards, is unbeaten in seven fights but the pair know each other well having sparred many times and fought competitively as amateurs.
And Satchell, like Edwards from Liverpool, will be boosted by a victory over Martin Power earlier this year, when he dropped the veteran before going on to win the six-rounder on points.
"It was a great fight for me, and it was a great shot I landed in the second round but I was made up it went the distance," he said. "It was great for my confidence.
"I can't wait. I've been doing it (12 rounds) in sparring - I know sparring's different but I've come out feeling full of energy and I know for a fact that long fights are better for me, I seem to get better as the fights go on. So I'm confident I can go 12 rounds."
The Frank Maloney-promoted bill, which features numerous Liverpool-based fighters, has created a lot of excitement in the area.
"I know Paul, he only lives a few miles away from me," added Satchell. "I know a lot of my fans and a lot of his fans want to see this fight. It's a big fight for the city and a lot of people are talking about it."