Froch - I'm still in my prime
Former super-middleweight champion feels as good as ever
Last Updated: 21/05/12 1:08pm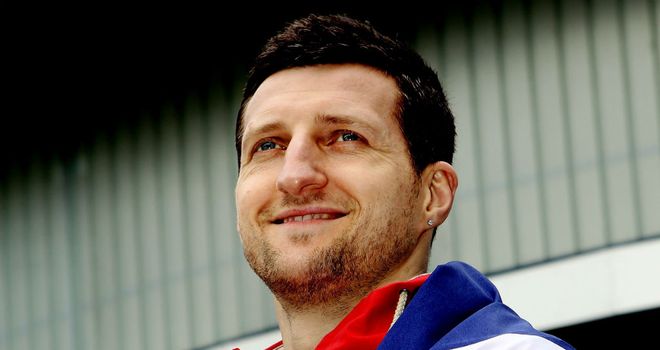 Carl Froch: Thinks he will produce one of his best performances against Lucian Bute
Carl Froch insists he will go into his showdown with Lucian Bute in the prime of his career, despite the fact he is approaching his 35th birthday.
The Nottingham fighter will be hoping to bounce back from his defeat to Andre Ward in the Super Six final when he takes on the unbeaten Romanian on May 26 in a bout that will be screened live on Sky Sports HD.
Froch has now been defeated twice in the past two years - losing out to both Mikkel Kessler and Ward in unanimous decisions.
But the former WBC super-middleweight world champion, who will be challenging for Bute's IBF title in May, has brushed off suggestions that he is past his best.
"It is a massive fight for me. I'm 35 in July, but I don't think age has much of a bearing if you look after yourself between fights which I do," Froch told Sky Sports.
Froch expects exciting bout
He added of his training: "You have to concentrate and the recovery takes a bit longer so it probably feels harder, but you're probably doing the same work but it feels a bit harder, so mentally you have to dig in a bit more.
Lifestyle
"But physically you can keep going into your late 30s, even your 40s if you keep yourself well. Bernie Hopkins is 47, he's almost a freak of nature to be 47 and still fighting.
"I really don't think I will be fighting then.
"But at 34 I feel very much in my prime, a lot of it has to do with how you treat yourself, whether you smoke or drink and the food you eat, but I do everything right."
Froch admits that he was beaten in convincing style against Ward and says it was not an option to bow out of the sport after such a disappointing display.
"I think this fight against Bute has the makings of a real, real showdown. Probably one of my best fights."
Carl Froch Quotes of the week
He said: "It was a very tricky, horrible fight. It's not a point to prove, but for myself I wouldn't want to finish my career on a fight like that.
"It was so awkward and messy. Don't get me wrong, Andre is a great fighter and he beat me fair and square, he was very good on the night.
"But his trickery and his defensive skills mean he's awkward and very hard to hit, which means he's good because he's hard to hit but it doesn't make for an entertaining fight.
"When I fight I'm in there to entertain, I'm looking for the finish, looking for the knockout. I'm not ducking and holding, I'm looking at putting on a real good show.
"And I think against Lucian Bute, he boxes and moves, he can punch a bit, I think this fight against Bute has the makings of a real, real showdown. Probably one of my best fights."