Wages day for Harrison
'Fraudley' cashes cheque despite abysmal effort
Last Updated: 11/01/11 5:07pm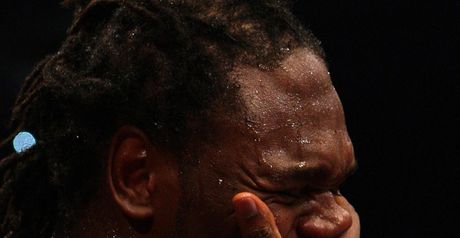 Harrison: Pitiful effort
Audley Harrison will be paid in full following his controversial bout with David Haye last November.
The former Olympic champion angered fight fans and pundits after landing just a single punch before he was stopped in the third round of the much-hyped world title fight.
The British Boxing Board of Control pledged to investigate the matter and had the power to withhold a percentage of his purse, but after interviewing Harrison they have chosen to let the matter rest.
"The Stewards of the British Boxing Board of Control having interviewed Mr. Audley Harrison MBE with regard to his contest against Mr. David Haye... have accepted his explanation and will not be taking the matter any further," a statement read.
Harrison, who reportedly received in excess of £1.5m for the fight, was expected to retire but has since pledged to continue his increasingly bizarre boxing odyssey.