Napa lines up France clash
London boxer must travel for European success
By Rachel Griffiths. Last Updated: 18/01/10 2:42pm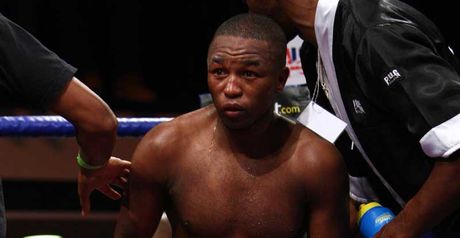 Napa: Must travel for Euro glory
Ian Napa will face a bout in France to reclaim the European bantamweight title if he defeats British title challenger Jamie McDonnell on Friday night.
LIVE ON SKY SPORTS
Ian Napa v Jamie McDonnell
British Bantamweight Title 10.00pm, Fri, Sky Sports HD1, Sky Sports 1 and online with Sky Player Click
here
to remote record TV Guide
"It was a reasonable offer so we decided to take the risk and travel"
Frank Maloney Quotes of the week
The 31-year-old Hackney boxer, who has recorded 19 wins with one knock-out and seven losses, will defend his British bantamweight crown against McDonnell at the Brentwood Centre in Essex.
If Napa beats the Yorkshireman he will challenge Frenchman Jerome Arnould for the vacant European belt in France on March 6.
Purse bids for the Arnould clash were scheduled to be held next week, but Napa's manager and promoter Frank Maloney settled terms with the Frenchman's backers.
Risk
"It was a reasonable offer so we decided to take the risk and travel," said Maloney.
"The other problem I had if I went to purse bids and won was not being able to stage the bout until the end of April because I have so many champions to keep busy with my booked TV dates.
"The EBU would not allow the fight to be delayed that long and Ian would have risked losing his nomination."
Napa relinquished the Euro title to another Frenchman, Malik Bouziane, in March last year.
Although terms to face Arnould are already agreed, Maloney insists Napa has no intention of overlooking McDonnell.
"Ian knows that if he lost to McDonnell the Arnould fight would be off," added Maloney.
"Before he speaks about Arnould, let's get what is a very tough British title defence out of the way."