Alvaro Robles provides ideal warm-up for Kell Brook ahead of world title shot, says Jim Watt
Alvaro Robles provides Kell Brook with an ideal warm-up ahead of a world title shot, says Jim Watt.
By Jim Watt
Last Updated: 14/03/14 10:30am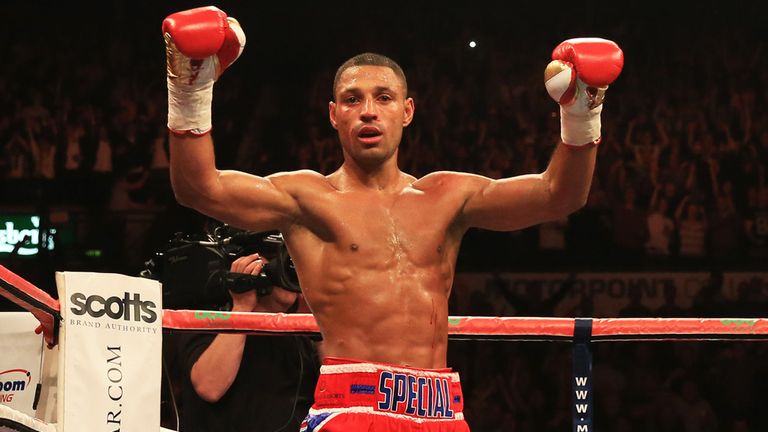 Kell is set to fight for the IBF welterweight strap by July 19, Matchroom promoter Eddie Hearn has announced.
Right now it doesn't matter who he will have to face for that world title - whether it's current champion Shawn Porter or Paulie Malignaggi - it is just pleasing that things have at last been tied up.
There's no doubt that Brook's career has lost a bit of momentum over the last couple of years.
He was the WBO welterweight No 1 for a while when Manny Pacquiao was the champion and we knew that was a fight that was never going to take place.
We hoped that it would've been vacated and he could've got a go at it but that never happened and then of course he was lined up to fight Devon Alexander on three separate occasion, and all of them fell through.
Kell pulled out twice through injury and Alexander pulled out once, and slowly but surely everyone - including the fighters, I think - lost interest.
I have to be honest I would have liked to have seen him look a lot more angry or upset, but maybe he wasn't 100 per cent back then and the good thing is, he's definitely making the right noises this time.
Strength
His performances against Vyacheslav Senchenko and the second one against Carson Jones were outstanding, so right now that date of July 19 seems to be the perfect time.
It also means this weekend's warm-up against the Mexican Alvaro Robles is ideal too. The simple fact is that Porter and Malignaggi will be in action soon so he had to keep busy himself, get into the gym, build that strength and stamina for when the big one finally arrives.
The words 'banana skin' are always banded around but he has to fight someone and because Brook is a high-profile fighter, he can't go in with a nobody over six rounds.
Robles (17-2) can clearly punch (15KOs) but has also been stopped twice so strikes me as the sort of guy that is going to come forward and be aggressive - and that is a perfect opponent for Brook.
I am sure Robles will come to Liverpool looking to knock Kell out but his reflexes, his technique and his own power will come to the fore which makes it the perfect warm-up.
His promoter Eddie Hearn has done a fantastic job managing to keep him as the No 1 contender with the IBF that's for sure. The IBF are known for their crazy decisions - like Jamie McDonnell for a start - but the fact that Kell will fight for the world title fight within 90 days after Porter and Malignaggi fight shows that everyone has done their job.
Now it's up to him.
Strong
He will do his part on Saturday night and although he needs to be careful I think this will be exciting. Then the real work will start.
The burning question all of a sudden is who do we want to see Kell fight for the world title? Porter or Malignaggi?
They are both good fighters and as a fight fan I would rather see him go in with Porter because I think that will be a great match-up and could be spectacular.
On the other hand, we all know the other is technically very good but rarely lights the touch-paper.
I've a lot of time for Paulie, though, and his career is still going strong and I would love to see him beat Porter and become a world champion for the third time.
Not only would Malignaggi against Brook be easy to sell over here, it would also be the one that Kell has the best chance of winning.